How To Get Rid of Musty Smells From Water Damage in Your House
Do you notice a musty smell in your house that you want to get rid of? Millions of Americans have and ignore awful smells in their homes. Whether from old water damage or undiscovered leaking plumbing, mold growth is a serious problem that should be remediated as soon as you discover it.
Ways to Eliminate Odors Caused By Water Damage in Your Home
1. Find the Source Of the Musty Smell
It's important to determine the source and location of the musty smell in your house. Check damp, dark, and warm areas of your home for mold growth, mildew, and other contaminants. Mold can grow on every surface, including water!
Be sure to assess the following areas for musty odors and water damage:
Exposed pipes
Roof
Foundation
Wood
Carpet
Drywall
While you should search your entire space, mold is most often found in these areas:Attics
Basements
Underneath sinks
Floors around plumbing fixtures
Crawlspaces
If you're unable to find where the smell is coming from, contact a professional.
2. Hire Professionals
To tackle and remove lingering smells from your home, seek the advice of a trained professional. Restoration specialists have the proper equipment to secure, remove, and mitigate mold. Powerful equipment is likely needed to eliminate the source of the mold growth, spores, and smells associated with it.
When a licensed technician removes mold, mildew, and other contaminants from your home, they'll also minimize the likelihood of spores repopulating.
Mold Remediation Process
When Dry Force technicians are contracted to remove mold from your home or business, have confidence that our trained professionals will efficiently return your property to its original condition.
Secure the Area
Minimizing the risk of mold cross-contamination is essential. Specialists will utilize heavy plastic sheeting to secure the area and HEPA air scrubbers to purify the air.
Remove Unsalvageable Materials
If mold is the source of the musty smell in your house, you may not be able to keep furniture or items that have been damaged by water. While carpet and walls with water damage will be discarded, our team of technicians will do their best to salvage as many items in your home as possible.
Cleanup
Tips & Insights: Why Is My Roof Leaking & Ways to Respond
Remove Water
Our contractors will eliminate excess moisture in your home or business with commercial-grade dehumidifiers and water extraction tools. Additionally, we use technology to help us detect and remove water molecules that aren't visible to the naked eye.
Repairs
Though mold removal is absolutely necessary, it does no good unless the cause of your water damage is repaired. Dry Force is a full-service contractor. We'll restore your home to its pre-damaged condition. When we're finished, it will look better than it did before.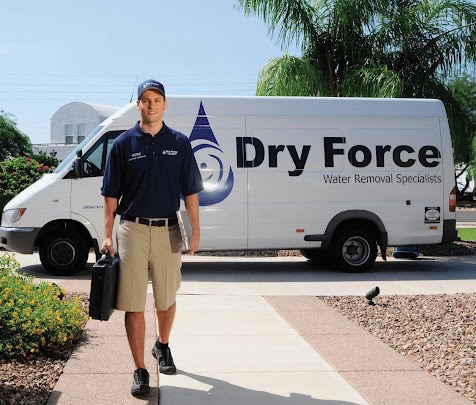 We Turn Chaos Into Calm™
Give Us a Call:
Top Signs of Water Damage In Your House
It can be difficult to spot the signs of water damage in your house. To help you diagnose the source of musty smells in your crawl space or other areas in your home, we have created an outline of common indicators of water damage and ways to respond.
Stains On Walls & Ceilings
Brown discoloration on the walls and ceilings is an obvious sign that water has infiltrated through the insulation and drywall. If you attempt to paint over or cover up this indication of damage, the damage will likely worsen. Once you notice a musty smell in your house, we recommend performing an inspection of the walls and ceilings in your living space. Stains on walls and ceilings is a sign of a broken pipe or water damage. Seek the advice of a professional for assistance in resolving your water damage issues.
Damaged Paint
Similar to discoloration, flaky paint is easy to spot. When the inside of your home has high levels of moisture, excess water will attempt to escape through the walls. This will result in the paint lifting off the surface of your walls.
Soft Drywall
Water damage, when left untreated, may cause your walls to become bulky and soften. Over time, this swelling may even lead to sagging ceilings, walls, and structural problems. If you notice a musty smell in your house or damaged drywalls, this is a sign of water damage. The strange odors may be caused by mild to severe mold in your living space. Get in touch with a restoration specialist right away.
Tips & Insights: How to Save Water-Damaged Furniture
Warped Walls
Severe water damage often leads to warped walls. When sheetrock becomes saturated with water, it will cause the wall to warp. This type of water damage can rot the supporting wood beams of your home and lead to unsafe living conditions. Before damages get this bad, contact a water damage restoration company.
Water Damage Restoration Services
If your home has a lingering smell you can't shake, chances are you have an infestation of mold. To get rid of mold, mildew, and other contaminants, call our team of technicians. Our team offers a variety of water damage restoration services such as roof leak repair, flood damage restoration, burst pipe cleanup, mold removal, and storm damage restoration. Mold remediation can be a timely process, but our specialists work quickly to remove hazardous materials and efficiently revive your property. Contact our team of technicians at (877) 589-7504. No matter what issue you face, We Turn Chaos Into Calm™.