Top 5 Causes of Roof Leaks & Ways to Fix
If you come home and discover water dripping from your ceiling, you probably have a leak in your roof. While some types of leaks may be due to severe storms, other types of leaks can be caused by a variety of other issues. When your home has a roof leak, contact a certified technician in your area to perform water damage restoration. To help you prevent moisture damage, we have created a list of the main causes of roof leaks and ways to respond.
Why Is My Roof Leaking?
1. Damaged Flashing
Thin metal sheets placed under the shingles and on the joints of your home are called flashing. They help establish a water-resistant barrier between the interior and exterior areas of your home.
Over time, the tar that roofers typically use to seal the flashing together erodes and becomes more susceptible to damage. When these components are damaged or broken, water will likely seep into the inside of your home and cause damage.
2. Broken Shingles
High winds and heavy rain are two reasons why the shingles of your roof may dent, crack, or detach from your home. Missing and damaged shingles can lead to a roof leak and moisture damage in your home. This creates an environment for mold, mildew, and other harmful contaminants to develop.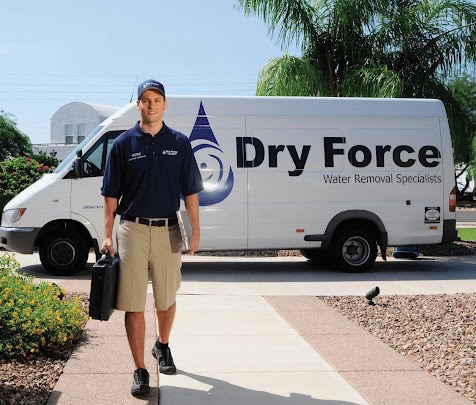 We Turn Chaos Into Calm™
Give Us a Call:
3. Valleys Are Not Sealed
When two sections of your roof are brought together, it typically appears as a slope. If you are wondering why your roof is leaking, the valleys may be improperly sealed. This will cause moisture from the weather to infiltrate your home and cause severe water damage. If you have a roof leak, contact a water damage restoration company in Plano, TX or other areas to assess the damages and perform the necessary repairs.
4. Vent Booting
Ever wonder what those small pipes sticking out of your roof do? Usually called roof vents, these components are installed to help excess moisture trapped inside your home escape.
Over time, flashing surrounding the roof vents may break or decay. When they do, it could result in mustiness, dark spots, or roof leaks.
Tips & Insights: Ways to Eliminate Musty Smells From Water Damage In Your Home

5. Ice Dam Buildup
When a block of ice forms on the edge of a roof it prevents melting snow from running off. If you are wondering why your roof is leaking, the source of the issue may be a buildup of ice. The combined weight of sitting water and ice may impact the stability of the roof and may even cause water damage.
Common Issues Caused By Roof Leaks
When it comes to the stability and function of your roof, it's best not to take chances. A leak in your roof can rot the surrounding wood, cause structural damage, or lead to the spread of harmful airborne contaminants. Below, we've listed the most common issues associated with rook leaks. If you experience one or more of these issues, contact an experienced restoration company right away.
Damaged Ceilings & Attics
When your commercial or residential property has a roof leak, the first place you'll notice abnormalities is on the ceiling of your establishment. If left unaddressed, residual water can stain the ceiling or cause structural damage throughout your attic.
Insulation Damage
When you have a roof leak, excess water may impact the function of your insulation. Water causes the insulation to clump, which makes it ineffective in maintaining the correct temperature of your home. To prevent damage to your insulation, you will need to hire a certified technician to determine why your roof is leaking and ways to resolve the problem.
Tips & Insights: 8 Best Things to Do After a Flood in Your Home
Mold & Mildew
Mold and mildew are two of the more serious effects of roof leaks. When not addressed immediately, mold spores will travel through the air and land on other surfaces until they have the right conditions to grow and multiply. Individuals with sensitive immune systems, allergies, serious illnesses, or asthma are more prone to the health risks of mold and mildew.
Damaged Structure
When you ignore mild water damage, the wood beams supporting your home may rot and compromise the structural integrity of your home. If this happens, the living areas in your home are no longer safe. Regardless of the severity of the water damage, it's important to hire a certified contractor to determine why your roof is leaking. A restoration specialist can help diagnose the cause of the water leak and ways to prevent water damage in your living space. Ignoring a damaged roof will cost you more in the long run.
Roof Leak Cleanup & Maintenance Services
When an intense storm takes away the security your home or business provides, don't panic. Instead, contact a water damage restoration company that is compassionate and efficient. Our team of technicians offer roof leak repair and water restoration services to homes and businesses in Texas. In addition, we offer other types of restoration solutions such as flood damage restoration, storm damage repair, mold remediation, and sewage restoration. We will work around the clock to revive your home or establishment to its pre-loss condition. We'll even work with your insurance company to help file your claim. We're a full-service restoration company that works hard, so you never have to. We Turn Chaos Into Calm™.