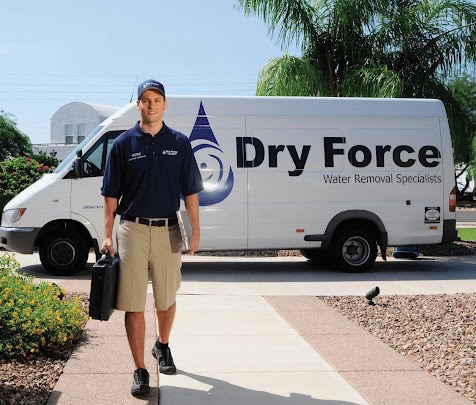 Water Damage Restoration Solutions
Storms and floods can easily damage your property and spread water to other vulnerable areas if not stopped. Even after flooding or heavy rain, lingering water can cause damage to walls, wood structures, and more. The best way to avoid further damage and the fastest way to restore your property to its pre-loss condition is by contacting the staff at Dry Force. Our team of technicians offer water damage restoration services for homeowners and businesses in Fort Worth, TX. Book an appointment with our professionals to receive help with mild to severe water damage.
Has recent water damage left your property a mess? You need fast service to prevent further damage. The professionals at our restoration company can be at your property within an hour. Using industry-leading moisture extraction technology, we will begin the extraction and water damage restoration process. You will be back on your property safely soon.
Call Our Team


(972) 399-0001
Call for a free evaluation
Standing water can cause permanent damage. Act now and let Dry Force prevent the damage from getting worse. Some of the common services we perform are listed below. Select a tile to learn more about the specific service we offer:
Why Fort Worth Homeowners Choose Dry Force
Robert Smith
March 20, 2022.
They were friendly, timely, and professional. Would recommend them!
Huong Mai
March 17, 2022.
Dry Force was referred to me by Wave Plumping. I had a slab leak in my house that required me to make an urgent decision on which route to repair my water leak. My decision was based on how much restorative work will need to be done to my house after the plumbing repair. Dry Force was able to come out within 1.5 hours from when I made a phone call for a same day consult. They were very professional and knowledgeable. Dry Force was able to work with my schedule to make it convenient for my time and also my renter's. They kept me in the loop with everything. They communicate very well and is very attentive to my concerns/needs and as well as my renter's. I highly recommend Dry Force for your restorative needs. I am starting the process of replacing things around the house that were damaged for the water leak.
Dry Force Water Removal Specialists is very high-end professional company. They were at my place with in half hour. Excellent job ethic. Mostly run by young Urbans. We'll mannered, serious about the best results of their job. I thank the management for seeking out. the best employees! Gage Josh
Julie Williams
March 2, 2022.
Every technician that came to our house was WONDERFUL! Shout out to Michael, Dylan (Mr. patches on his jacket), Gage and Kaylee. So friendly and knowledgeable. Will definitely remember to use Dry Force or recommend them to my friends and family!
Shanna Ellis
February 28, 2022.
Very thorough, very professional. Dylan did a great job and explained the process and answered all of my numerous questions. Cleaned up after deconstructing my wet flooring and took extra precautions to highlight and minimize trip hazards when I told him I had a young baby boy just learning to walk in the house. The gentleman who picked up my equipment was also very helpful and professional and took care to not wake up my sleeping baby which I greatly appreciated, unfortunately I didn't catch his name. The company called and gave me updates on the progress of drying time. Overall a great company to work with during a stressful time.
Flood Damage Restoration Services
Flooding can strike unexpectedly in your local area. The technicians at our restoration company can help homeowners in Fort Worth, TX recover from flood damage. The specialists at Dry Force have helped countless families and businesses restore their property to its pre-loss condition. Our team will even work with your insurance company on your behalf and more. Give our technicians a call by phone at (972) 399-0001 to receive help with damage caused by a flood.
Storm Damage Repair & Restoration Services
Texas is no stranger to storms. However, some storms have the potential to damage your property badly. When that happens, you don't have time to waste. The faster you can get water out of your property, the faster you can safely reenter it. Don't wait for water damage from a storm to settle. Contact our team at (972) 399-0001 for storm damage repair and restoration services. We'll ensure all water is removed and your property can properly dry out before repairing or restoring it.
Call Our Team


(972) 399-0001
Burst Pipe Cleanup & Repair Services
A burst pipe can quickly flood your property if not addressed immediately. Some cases of burst pipes aren't so visible and show up in the form of water-stained ceilings or fluctuating water pressure levels. In either case, the water gushing from the supply line can spread to several vulnerable areas in a home or office.
The team at our water damage restoration company provides burst pipe maintenance and repair services for homes in Fort Worth, TX. At the first sign of damage, contact the professionals Dry Force to prevent damage to your walls, flooring, and furniture. We'll dry out and restore your property to its pre-loss condition.
Roof Leak Repair & Maintenance Services
Notice water dripping from your ceiling or water stains on your ceiling? This is a sign of a roof leak that can lead to more problems if not fixed. Our specialists can get to your home within an hour and begin clean-up, water extraction, and repair. Let our team restore your roof so you can get back to your property sooner.
Appliance Water Leak Restoration Services
Appliances that use water, such as washers, dishwashers, refrigerators, and garbage disposals, are prone to water leaks. It may not seem like a big deal, especially if the leak is small. However, the longer it goes unaddressed, the more water damage it can cause. If your appliances are leaking, you can rely on our specialists to perform appliance water leak restoration services in Fort Worth, TX. We can be there within an hour and begin any extraction, repairs, and water damage restoration.
Reliable Water Damage Restoration Solutions in Fort Worth, TX
No matter what caused water damage to your property, you need to pick the right restoration company in Fort Worth to minimize the damage and act quickly. At Dry Force, we aim to help you get back to your home as soon as possible by restoring your property quickly and safely. You can rely on our water damage restoration services at any time of the day, any day of the week. Set up your free evaluation or contact us for emergency services by calling us at (972) 399-0001.