10 Causes Of Water Damage in Houses & Ways to Respond
Your home is a safe haven. Under normal circumstances, your living space provides the protection and comfort your loved ones need. However, accidents do happen. Pipe bursts, water tank leaks, and unexpected flooding can happen in the blink of an eye. When natural or accidental water damage occurs in your home, trust our team of certified technicians to restore your property to its original condition. We Turn Chaos Into Calm™.
To help you prepare for a storm or flood, we have compiled a list of the top causes of water damage in houses and ways to respond. Our team pride themselves on delivering timely repairs with excellent customer service and absolute quality assurance. We work quickly to document damages, contact your insurance company, and streamline the filing of your claim.
What Causes Water Damage:
Severe Storms
Sewage Backups
Clogged Gutters
Burst Pipes
Plumbing Overflowing Issues
Slab Leaks
Roof Leaks
Water Supply Line Leaks
Appliance Leaks
Clogged Drains
If you've recently experienced one of these unfortunate events, contact our specialists for a free consultation.
When Is the Correct Time to Call a Professional?
When You Notice An Issue
We know it's tempting, but when you realize your home has water damage, don't try to fix the issue without a professional. Save the do-it-yourself (DIY) projects for another area of your home. Trust our certified technicians to handle water damage restoration with accuracy and absolute professionalism.
After a Major Storm
Texas weather is like no other. If you encounter signs of a roof leak after a serious storm, contact a professional restoration company to assess the condition of your property. If left untreated, minor leaks can and will compromise the structural integrity (and safety) of your property.
If you're not sure what water damage looks like, keep an eye out for the following signs:
Water Spots
Mold Spores
Musty Odors
Pooling Water
Discolored Flooring
Increased in Utility Bills
Our Water Damage Restoration Process
From the moment you call, ensuring your health and safety will be our top priority. Consequently, we arrive within 60 minutes to inspect and resolve the water damage in your house. Our team is committed to ensuring the restoration of your property remains timely and convenient. Let's break down our restoration process:
Secure the Area
In order to prevent cross-contamination and keep mold spores from spreading, we use heavy plastic sheeting to completely seal off the area(s) affected. We then implement advanced HEPA air filters to eliminate mold and dust from the air.
Tips & Insights: What Are the Top Things To Do After a Flood in My Home?
Remove Unsalvageable Materials
Mold is extremely stubborn. Even with the highest-grade solutions and technology, some items can't be saved. Fortunately, our licensed technicians will clean what we can, and help you replace the unsalvageable items.
Cleanup
Following the removal of unrecoverable materials, our technicians will begin deep cleaning the area. This intense process involves the use of broad-spectrum cleaners like antimicrobials, fungicides, disinfectants, and HEPA vacuums to eliminate water damage in your house. We'll scrub every corner and area until your home is healthy and safe to reenter.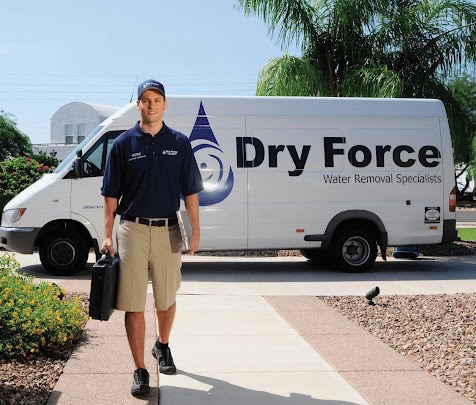 We Turn Chaos Into Calm™
Give Us a Call:
Remove Water
Dry Force techs will then use dehumidifiers and commercial-grade water extraction tools to remove residual moisture, which may lead to mold growth. Utilizing the best moisture detection technology on the market to ensure that no moisture is left behind.
Repairs
We're a full-service contractor, which means we restore your home to its pre-damaged condition. When we're finished, you won't be able to tell there was a water damage issue. That's how We Turn Chaos Into Calm™.
Superior Mold Remediation & Repair
Allow our team of technicians to help you recover from excessive water damage. For your convenience, we provide the following services:
Honest and upfront pricing, no hidden fees
Removal of unsalvageable materials and items
Industry-leading moisture extraction technology
Superior customer service
Advanced sanitization processes
We work will all insurance companies
IICRC S520 certified technicians
100% satisfaction guaranteed
Experienced Water Damage Specialists
If you're not careful, water damage can devastate your house or property. Luckily, our restoration technicians are trained to Turn Chaos Into Calm™. Our staff offers various types of water damage restoration services such as flood damage restoration, burst water pipe maintenance, storm damage restoration, mold remediation, and roof leak cleanup. For nearly 20 years, Dry Force has catered to the needs of home and business owners with honesty, accuracy, and efficiency. We work day and night to restore your home to its pre-loss condition. We'll even document damages, contact your insurance company, and file your claim.
If your home or business has water damage, contact us for professional repair. We offer 24-hour emergency services for storm damage, sewage backup, and more. Did we mention our complimentary evaluation? Request an appointment or call (877) 589-7504 to discover why Dry Force provides unmatched water damage repairs and quality care when you need it most.
Tips & Insights: Does Homeowners Insurance Cover Water Damage?