Top 8 Things To Do in the First 24 Hours After a Flood
Every second of your response after a flood counts to combat issues in your home or business. To help you stay prepared for future floods or water damage, we have created a list of the top things you can do to prevent issues that are caused by floods. If you complete these steps in the first 24-hours of a flood, you will have a greater chance of minimizing water damage.
1. Prevent Additional Risks
Preventing additional risks is relatively simple. Start by assessing the inside and outside of your home for potential damage after a severe storm or flood. Perform an inspection of your home for various types of issues such as structural damage, warping floors, a cracked foundation, and malfunctioning power lines.
If accessible, you should locate your fuse box to shut off all power. Next, inspect the sewer, gas, electric, and water lines on your property for damage.
2. Take Photos
Before removing water or making repairs, be sure to document any and all damages. This can be in picture or video form. Either way, all documentation should be captured in detail then sent to your insurance adjuster to support your claim. Failing to document damages after a flood may decrease the amount of coverage you qualify for.
3. Preserve Your Health
To prevent health issues, you will need to avoid using contaminated water in a flooded house. In addition, do not consume food that has been in contact with flood water or moisture. The easiest way to protect your health when you are dealing with a severe flood is to wear waterproof boots, discard contaminated food, and boil water prior to using it.
4. Contact Your Insurance Company
While you may not live in a high flood risk area, it's always a good idea to keep your home insurance adjuster's number in your phone in case of emergency. If you are trying to determine what to do after a flood, an excellent tip is to reach out to your insurance company to start the process of filing your claim. Some types of water damage, such as groundwater, aren't covered by regular homeowners' insurance. As a homeowner, it's imperative to know what your insurance covers and what it doesn't cover.
5. Stop the Water At Its Source
If you can't, or aren't sure how to stop the flow of water from worsening the damages to your property, turn off your home's main water valve.
Need Assistance? Our Team Offers Reliable Water Damage Restoration Services in Houston, TX & Other Areas
6. Evacuate the Property
In the event of a malfunctioning pipe or sewage leak, you'll need to evacuate the area immediately. Get all members of your family (and pets) to a safe location. If there's a natural disaster, tune into your local news for instructions on where to seek shelter.
7. Start the Cleanup Process
Cleaning up after a flood may seem daunting. Fortunately, Dry Force technicians are trained specifically for these high-stress situations. Contact your local restoration specialist for proper cleaning, restoration, and repair.
8. Prevent Mold Damage
A majority of wet or damp surfaces will likely attract mold spores after a flood. To prevent the excessive spread of this harmful contaminant, get in touch with a restoration specialist. Licensed technicians are trained to contain and mitigate mold properly.
Negative Effects Of Water Damage in Your Home
In minutes, water can have several disastrous and lasting impacts on your home. In addition to soiled wood and walls, water in a flooded house can destroy documents, photographs, and lead to structural damage.
Read on to learn more about the negative effects of water damage.
Devalued Property
Water damage is extremely difficult to hide. Although water stains can be painted over, other signs of destruction like cracked walls and odors may be harder to conceal. These effects can and will likely turn potential buyers away.
Structural Damage
Depending on the amount of water, the foundation of your home may be damaged after a flood. In addition, split masonry and deteriorating subfloor may contribute to unsafe living conditions. To ensure your commercial or residential property doesn't have structural issues, contact a specialist to evaluate your property.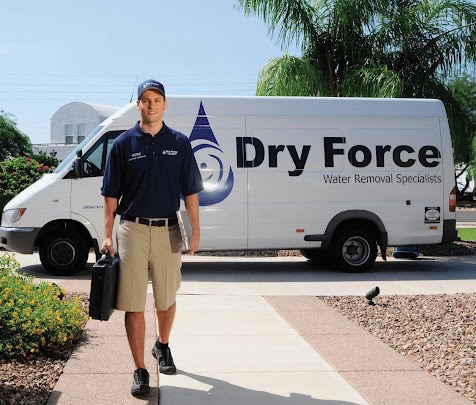 We Turn Chaos Into Calm™
Give Us a Call:
Electrical Damage
Electrical systems that have been impacted by floodwater are extremely hazardous. Be sure to turn off all electrical components and keep your family and pets away from standing water.
Avoid contact with the following electrical components:
Wiring
Outlets
Electrical boxes (other than to turn off the power)
You may also want to avoid the following appliances:
Washing machines
Hot water tanks
Dryers
Low-mounted electrical outlets
Kitchen appliances
Tips & Insights: How To Save Water-Damaged Furniture In Your Home
Damaged Personal Items
Unfortunately, water-damaged personal items like written documents, books, videos, and photographs may need to be thrown away after a mild to severe flood. Although you may be required to throw away a couple of your personal possessions due to moisture damage, you can work with a water restoration company to restore some of your items.
Flood Damage Restoration & Removal Services
When emergencies happen, contact a technician at Dry Force. Our team offers exceptional flood restoration and water damage restoration services in McKinney, TX and other areas. The staff at our water damage restoration company provides exceptional and efficient services. Our technicians provide various types of water damage services such as storm damage repair, burst pipe cleanup, roof leak restoration, and sewage backup cleanup.
Our certified technicians prioritize your health and safety and use advanced technology to remove potentially hazardous water from every surface of your home. Your flooded house may appear to have irreparable damage, but our advanced water removal processes will help restore your home or business. When you need emergency water restoration, contact our trained water disaster specialists at (877) 589-7504. Our local technicians are available 24-hours a day, seven days a week.