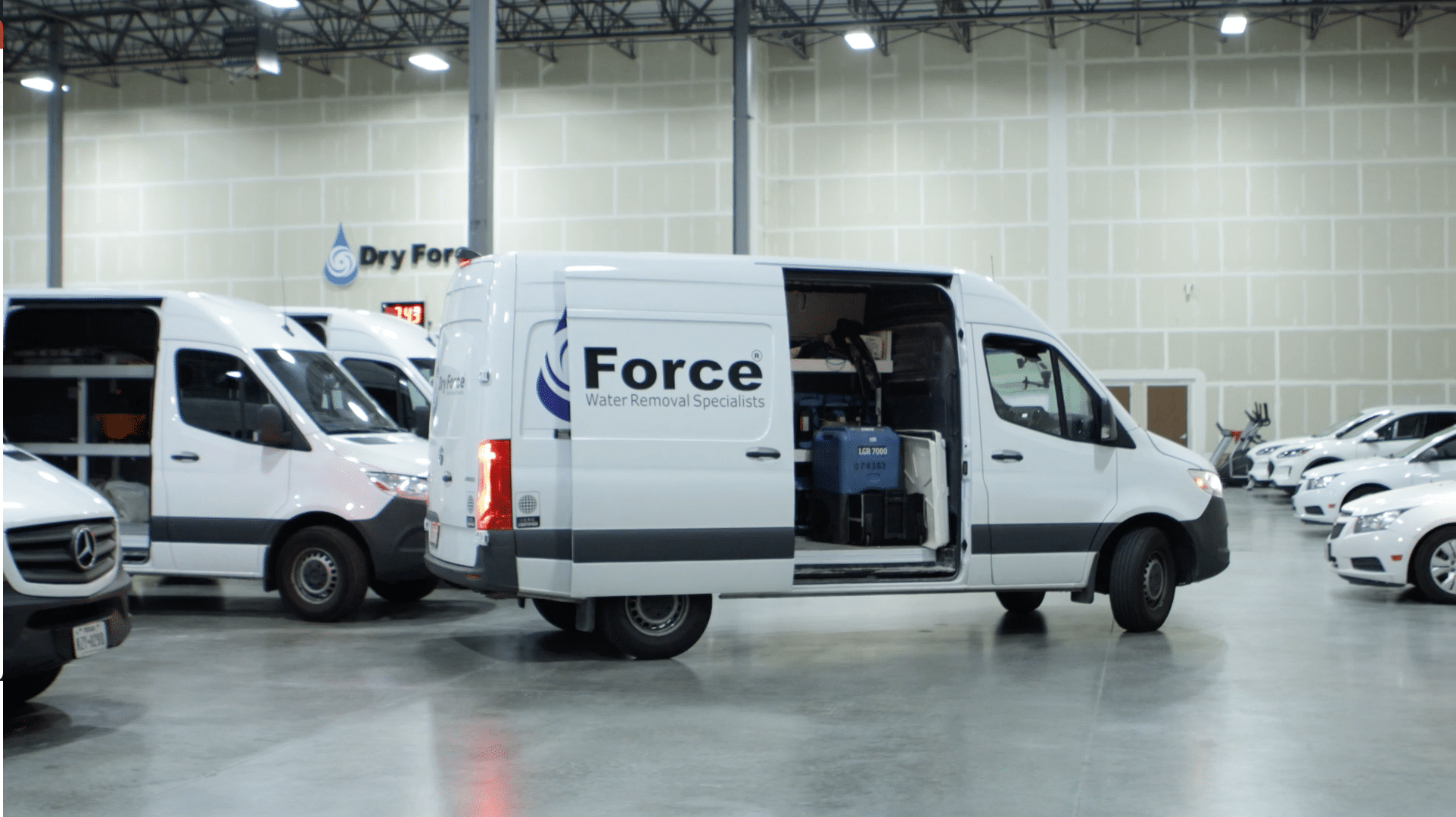 Under Control
Dry Force is the Fastest Way to Get the Chaos of Water Damage Under Control
Under Control
The New Approach to Water Damage Restoration
How Better Processes & Technologies Are Changing the Game
Under Control
A pipe bursts. A faucet is left on. A water heater leaks. Chaos ensues. And sometimes the contractors you bring in to help just add to the chaos.
Under Control
Expert Advice When You Need It Most
We know the challenges you face when damage happens. Get professional advice to help you when disaster strikes.
With everything from 3D scanning technology to remote monitoring, we make the whole process more efficient and less disruptive for you.
Our professionals not only care about getting the work done right, but also genuinely care about the people they serve.
Our teams have the experience, equipment, and support to handle everything from initial cleanup to final reconstruction.
Find Out Why Dry Force Has Become One Of the Largest &
Most Respected Water Damage Restoration Companies
Call For A Free Evaluation
See What Our Customers Are Saying
At Dry Force, customer satisfaction is our #1 priority. This is why we take great lengths to ensure our customers are happy with our team's water mitigation services. But don't just take our word for it. Read through some of the thousands of Dry Force reviews from customers just like you.
Brian Ousley
July 26, 2023.
Ace showed up on time for the consultation and was very professional and friendly. He was very detailed in his inspection. He did not find any water damage. I highly recommend this company.
Elaine Andrepont
July 26, 2023.
Totally satisfied with DRY FORCE water removal systems. Each and every person that called to schedule appointments or visited my home for removing water were professional. Dry Force, workers upon entering my home showed respect while they they took the time to protect the integrity of my home with politeness, care and consideration for my safety. So pleased with their professionalism, I wholeheartedly recommend Dry Force as your number 1, go to source for your home. I'm extremely happy that my brother recommended Bill & Cody for whom highly recommended Dry Force to me. ELaine Therese Andrepont ETA🌹
Deborah Mullen
July 25, 2023.
Nick W. was very quick and has great customer service!
Court Monroe (Courtbel2011)
July 25, 2023.
They were amazing! 100% recommend!
greg corley
July 23, 2023.
Nick w was thorough in his explanations
David Bader
July 22, 2023.
Nick W. Very professional. Explained everything in detail and helped with insurance company. Highly recommended.
Call for a free evaluation
Standing water can cause permanent damage. Act now and let Dry Force prevent the damage from getting worse. Some of the common services we perform are listed below. Select a tile to learn more about the specific service we offer:
Whether it's a single room or entire home or business, the staff at our company delivers the best water damage restoration services in the area. Here are a few reasons why customers trust their homes and businesses to the professional water restoration specialists at Dry Force.
Our Water Removal & Restoration Process
Once a water loss is discovered, we strive to be on-site to start the water mitigation process within 60 minutes!
Once our team of technicians is on-site, a complete assessment is done to identify all the affected materials. The staff at our company utilize moisture meters, digital thermal cameras, and hammer probes to identify wet areas on surfaces and behind walls.
Dry Force utilizes the newest and most efficient equipment on the market. Dri-Eaz Velo's are quieter, have a smaller footprint and utilize less power than the older, larger fans.
Remote Monitoring Systems
Our team of technicians are experts in Remote Monitoring and have the ability to take readings every 5 minutes, ensuring you have proper documentation to prove your property is dried effectively. We are determined to offer dependable water removal services and will not interrupt your day with in-person appointments to monitor your moisture levels.
Dry Force provides extensive documentation to property owners upon completion of a job. This includes readings from our remote monitoring system and pictures from start to finish
Fast Water Damage Restoration Services in Dallas, TX & Other Areas
Standing water can cause permanent damage to your home, office or property. Whether it be residential or commercial, the team at our company can mitigate almost any type of damage caused by water. We offer reliable water damage restoration services for homes and businesses in areas of Texas such as Houston, Austin, Dallas, Fort Worth, and San Antonio. From storm and flood damage to over-flowing plumbing, our certified technicians are available 24 hours a day, 7 days a week, 365 days a year.
At Dry Force, our rigorous quality assurance process ensures the satisfactory completion of every job we do. If for any reason you're not completely satisfied with our water damage restoration solutions, contact our team. We'll do everything possible to make it right. Guaranteed.
Dry Force proudly offers around-the-clock emergency repair services for damage caused by tornadoes, hail, hurricanes, floods, and everything in between to residents. We understand how unexpected damage can impact families, and we are here to help from the first call until the full restoration of your home, investment, or business.
Emergency Response Services
During an emergency, waiting is not an option. Our emergency technician teams are on call to serve you 24 hours a day, 7 days a week, 365 days a year. Yes! Even on major holidays. We are here when you need us.
Some companies claim "one-hour response time" and never show up. We mean it. Our 24-hour emergency service is available with radio dispatched technicians. With a fleet of over 45 vehicles, we guarantee a rapid response time. The sooner we arrive, the sooner we can help fix your Home damage, allowing normalcy to return to your life.
We Work with All Insurance Companies on Your Behalf
An insurance adjuster is the last person you want to deal with during a crisis. Let us take that burden off of you. We work as an advocate on your behalf, serving your best interests and not those of your insurance company. We directly bill your claims to ensure the prompt completion of your restoration project.
Technology and Documentation
From remote water level monitoring to 3D/virtual mapping and mobile job-site documentation technology, we utilize the latest and most effective tools to help you visualize the scope of your storm damage restoration project.