4 Tips For Salvaging Water-Damaged Furniture
Among the most frustrating aspects of dealing with water damage is knowing if your beloved furniture is salvageable. Lucky for you, we've done the grunt work. Below are details regarding the most common types of household living furniture. Check out our tips to see which water-damaged furniture can be saved.
How to Salvage Water-Damaged Furniture
Don't let your water-damaged furniture stress you out. First, determine if your furniture can be saved, then follow the tips below to ensure your items are restored properly. Solid wood is less porous and can most likely be salvaged. Other items, however, will need to be examined closer.
1. Inspect and Assess
As soon as you are clear to reenter your establishment, take plenty of photos. Documenting all of your issues will be helpful when filing your water damage insurance claim. Next, you should separate your items into salvageable and unsalvageable piles. Furniture that cannot be saved should be moved out of the house. Despite the risk of mold and mildew, you shouldn't discard anything until your insurance adjuster views your property.
2. Upholstered Furniture
This type of furniture may be difficult to clean, disinfect, and dry. If you want to try restoring your water-damaged furniture, follow the steps below.
Step One: Pressure wash and disinfect your damaged furniture.
Step Two: Use industrial-strength dehumidifiers and fans to evaporate all moisture.
Step Three: Place back in your home and enjoy your restored items!
3. Wood Furniture
Depending on the size of the item, wood furniture may be difficult to restore. Saturated wood left in water for days should likely be discarded. However, if your items have been water-damaged for less than 24 hours, they can be saved. Before you revive water-damaged wood, determine if that's the most cost-effective option.
Step One: Strip the finish with a sander or sandpaper.
Step Two: Cleanse and bleach wood. Then let dry.
Step Three: Reapply the finish and let dry.
Tips & Insights: How to Prevent Mold In Your House
4. Mattresses
Mattresses are similar to upholstered furniture. The fabric of a mattress is highly absorbent and may create an environment for bacteria and mildew to develop.
For this reason, if your mattress is soaked with contaminated water it's best to throw it away. If, however, your mattress was exposed to non-contaminated water for a short amount of time, there may be a chance to save it. Unfortunately, all box springs exposed to flood water will need immediate replacement.
Step One: Move the mattress to a dry area.
Step Two: Place on blocks and use a fan to encourage top-to-bottom drying.
Tip: If you detect a musty odor, you may have mildew. While you can go to a professional to properly sanitize your furniture, it may be best to replace it.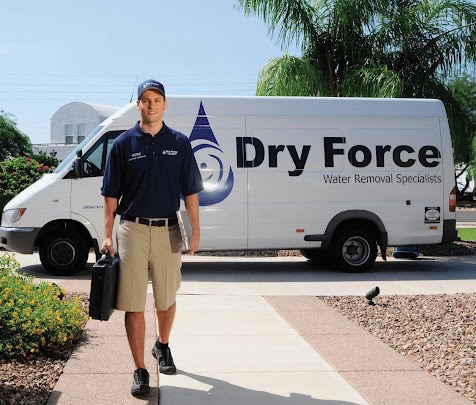 We Turn Chaos Into Calm™
Give Us a Call:
Can You Save Water-Damaged Furniture?
The general answer to this question: it depends. But to give an accurate answer, we'll need to dig deeper.
Leather Furniture
Leather is one of the most durable materials on the market. Unfortunately, leather furniture is just as prone to water damage as other materials. Wet leather is highly susceptible to mildew, mold, and other harmful contaminants. When your leather is damp with water, dry the area thoroughly with a towel and hair dryer. If mold has developed on the area, use saddle soap, a wet sponge, and a nail brush will remove the damage.
Wood Furniture
When left untreated, water damage can destroy wooden tables, chairs, and bedroom furniture sets. While there are products you can apply to restore lightly stained wood, significant damage requires more work. To restore wood furniture, you will need sandpaper (220 grit), a facemask, gloves, and protective eyewear. Simply sand the swollen wood until smooth.
Next, sand the other parts of the furniture so they match the damaged area. If you're unable to get the entire surface even, apply diluted bleach to the impacted area and let it dry. Then sand the wood before applying a high-quality furniture oil.
Tips & Insights: Why Is My Roof Leaking? Recommendations & Ways to Fix
Fabric Furniture
This may be one of the easiest types of furniture to salvage. Although fabric is absorbent, it's much more forgiving than wood and leather. To combat water damage to a fabric couch or chair, you will need cleaner, disinfectant, pressure water, fans, and dehumidifiers. The most effective way to salvage fabric furniture is by using hot water and a pressure washer.
Doing so kills bacteria and rids your items of contaminated and smelly water. After pressure treatment, dry with fans and a dehumidifier. This process may take up to 48 hours. If upholstery is unable to dry, you may need to strip and replace the fabric. Keep in mind porous furniture that's highly contaminated should always be replaced.
Water and Flood Damage Restoration Services
Water damage can be unforgiving. Fortunately, the team of technicians at Dry Force offer water damage restoration services in San Antonio, TX and other areas. Our staff offers water damage services for single-family homes, condos, apartment complexes, and commercial properties. In addition, we provide other types of innovative restoration solutions such as burst pipe cleanup, roof leak maintenance, flood restoration, slab leak detection, and storm damage repair. When you have water-damaged furniture, contact the certified technicians at Dry Force by phone at (877) 589-7504 to receive assistance.
Our certified specialists use industrial-quality applications to streamline the drying and sanitizing processes. We also use top-quality dehumidifiers and HEPA air scrubbers to ensure the furniture in your home or business is safe and rid of harmful bacteria. The technicians at Dry Force are available 24-hours a day, seven days a week. We Turn Chaos Into Calm™.