Top 8 Signs Of a Roof Leak & Ways to Prevent Water Damage
The roof of your home provides not just protection from the elements, but a sense of security. A roof leak can disrupt your life and result in water damage. Roof leaks likely come from storms, but even when the weather is nice, you need to watch for these top eight signs of a roof leak.
Signs Of a Roof Leak
1. Damaged Shingles
Damaged, warped, or missing roof shingles provide the perfect access point for moisture. Routine roof inspections help identify any shingles that need replacement. Check your roof after extreme weather conditions pass, as severe weather can damage shingles.
2. Gutter Problems
A roof leak can also originate from your gutters. A gutter can clog or become rusted if it's not properly maintained and cleaned. A leak in the gutter could mean water is leaking through the roof, too.
3. Mold
If there is visible mold growth, especially on exterior walls, it could originate from a leak in your roof. If you find mold growing in your home, your first step should be to call a professional water damage restoration company in Fort Worth, TX or other areas to prevent safety issues in your living space.
4. Discolored Walls
Stains or discoloration on walls and ceilings are a sign of a roof leak. There are other less noticeable places that can show discoloration or stains such as overhead light fixtures and window or door seals.
5. Wet Exterior Walls
Wet spots on the exterior of the home, even when there has been no rain, are another sign of a roof leak. When you feel the wall, is it damp to the touch? This can cause issues inside the wall of your home and cause mold growth on the exterior.
6. Damaged Roof Flashing
Roof flashing is a thin layer of metal that protects the roof and directs the flow of water away from places where it could pool. If the roof flashing is damaged, this is a sign you will encounter a roof leak in the future. Reduce the chances of damage going unnoticed by checking the flashing once each season. Cracks or rust in the flashing can be fixed to prevent water damage.
Tips & Insights: What Are the Causes of Severe Water Leaks in Washing Machines?
7. Moisture on Shiners
You may not think to check underneath the roof, but if you do you could be rewarded by spotting shiners, which are nails not entirely in the frame. If you notice moisture or frost on the shiners, this is a sign of a damaged roof that needs to be fixed.
8. Holes From A Prior Installation
Did you previously have an antenna or satellite dish on your roof? During its installation, holes would have been drilled into the roof. If the dish has been removed from the roof by an inexperienced contractor, the holes can cause a mild to severe roof leak and water damage in your living space.
How to Manage a Roof Leak While You Are Waiting For a Professional
For starters, you should call a professional roof leak cleanup and maintenance service. Then, do these four things to manage the leak until help arrives:
Redirect the Water
You can redirect the water away from your home using a bottle funnel. All you need is a hose, a plastic bottle cut in half, and tape. Attach the hose to the half of the bottle with the bottleneck, and use the tape to secure it in place. Place the large opening on the bottle under the leak. The other end of the hose will be placed outside, so water will flow from the leak through the bottle, down the hose, and out of your house.
Reduce Damage
Move furniture and valuables away from any affected areas. If you have a plastic tarp or plastic bags, lay those on the floors to prevent further damage.
Tips & Insights: Top Signs of Water Damage On Wood Floors in Your Kitchen
Check the Exterior
Once you have taken steps to protect the interior of your home from a roof leak, you will want to check the exterior of your house. Look for any visible signs of damage on the roof, which would be the most likely culprit of the leak.
Identify the Cause
If it is safe to do so, try identifying the cause of the leak. Old roofing materials, damage to shingles or flashing, or blocked gutters could all cause a leak. If it is unsafe to inspect your roof, leave that to the professionals.
Reliable Roof Leak & Water Damage Restoration Services
When you experience the signs of a roof leak in your living space, give our team of technicians a call by phone at (877) 589-7504 to receive assistance. We offer roof leak restoration services for homeowners and are committed to keeping your family safe. Our contractors provide innovative water damage restoration services in Dallas, TX and other areas.
In addition, our staff offers other types of restoration solutions such as storm damage repair, mold remediation, burst pipe maintenance, and flood damage restoration. Our 60-minute response time means you get back to your daily life fast and minimizes the damage to your property.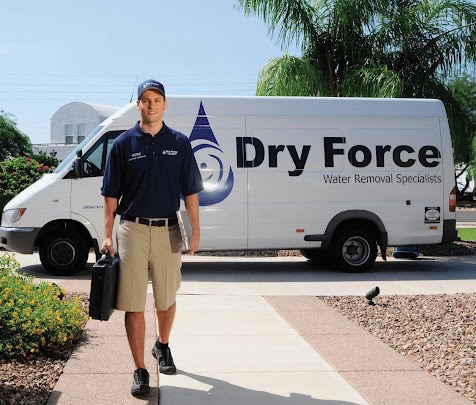 We Turn Chaos Into Calm™
Give Us a Call: