4 Signs Of Water Damage On Wood Floors
There is nothing worse than coming home from a long day of work to find your living space partially underwater. As if that wasn't bad enough, your perfect wood floors are now swollen due to severe water damage. When your home or business encounters a severe water emergency, contact a professional restoration company right away. To help you diagnose damaged wood floors, we have created a list of the top 4 signs of water damage and ways to respond.
Top Signs Of Water Damage On Wood
Sometimes, water damage is difficult to spot. To help you understand early (and late) signs of water damage to wood floors, we've listed four major indicators of rotted or water-damaged floors.
1. Soft Boards
This is an obvious sign of major water damage. When your property has soft boards, the floorboards are completely rotten and require replacement. Soft wood floors or boards may also be a sign that water damage has spread to other areas of your home. Soft, wooden floorboards are a major red flag and typically mean extensive water damage.
2. Wood Planks Are Swelling
If your wood floors have absorbed enough water, they will start to become swollen. This indication of prolonged and unresolved water damage will impact any surrounding wooden planks.
This includes, but is not limited to:
Planks rising at the edges
Uneven floor surfaces
Water seeping to sub-flooring
3. Planks Are Cupping
In some cases, wooden floors don't swell due to water damage. When this happens, boards will typically warp, then bow downwards or upwards. Similar to water-saturated boards, residual water will drip onto the subfloor.
Tips & Insights: What Should You Do If You Find Water Damage in Your Attic?
4. Mold
It won't take long for water damage on wood floors to start developing mold. Mold is tricky and may not always be detected right away. In fact, you may only smell the mildew stench.
Signs of mold include:
Rotten smell
Allergy or asthma flare ups
Wheezing/ persistent cough
Skin rash
Eye irritation
Dry skin
If you suspect there is mold in your home, contact a professional restoration company. Dry Force provides full-service mold remediation for your property. This contaminant is very harmful and should always be handled by an expert. Don't let mold impact the health and wellness of your family.
Top Causes Of Water Damage to Wood Floors
Many components may lead to severe water emergencies and swollen wood floors. Let's discuss the leading causes of wood floor water damage:
Leaky Water Pipes
Burst plumbing is a rarity. Instead, pipes will likely crack and leak water. If not caught right away, minimal leaks can turn into massive water damage.
Rain
Roofs and attics are the most susceptible to rainwater damage and costly destruction. Due to low traffic flow and minimal lighting, water damage often goes unnoticed in these areas until significant damage is done.
Tips & Insights: Signs of Severe Water Damage to Your Drywall
Ice Damming
Just when you think you've escaped roof damage, here comes ice damming. When a ridge of ice forms on the edge of your roof, it prevents water from draining properly. This is commonly caused by uneven temperatures. As a result, melting snow (water) remains on your roof water, likely causing additional water damage. If the puddle is large enough, you may experience roof leaks and floor damage.
Toilet Overflow
Faulty toilets are a common reason for water damage to wood floors. If your plumbing has backed up, it will likely overflow. When this happens on multiple occasions, it causes residual moisture to collect on the subflooring of your hardwood floors.
Malfunctioning Appliances
Washing machines and dishwashers that are malfunctioning can cause water damage to wood floors. Typically located on the first floor, in a small closet, or tight space, malfunctioning appliances may also generate excess humidity. If this happens, the warm and wet environment may lead to mold growth, mildew, and other harmful contaminants.
Water Table Height
In the event that the height of the natural water table increases, your subflooring will likely experience an increase in moisture. Said increase would ultimately impact the condition of your hardwood floors. It may also compromise the structural integrity of your establishment.
Tips & Insights: How to Use Air Movers to Combat Water Damage
How to Prevent Water Damaged Wood Floors
Prevent accidental water damage with these helpful tips:
Clean up any water spills right away
Keep up with wood floor maintenance
Don't use a string mop to clean hardwood
Monitor the condition of your plumbing and fixtures
Contact a professional to replace any appliances
Water Damage Restoration Services Offered By Dry Force
In minutes, backed-up plumbing or faulty appliances can flood your home and create seemingly irreparable water damage to your walls, furniture, and wood floors. Fortunately, water damage restoration is our specialty. We offer water damage restoration services in Houston, TX and other areas. In addition, our staff provides other types of restoration solutions such as storm damage repair, flood damage restoration, burst pipe maintenance, roof leak cleanup, and mold removal.
Water mitigation can be a timely process, but our specialists work quickly to remove hazardous materials and efficiently revive your property. The water removal specialists at Dry Force will ensure your property is restored right the first time. Give our team a call by phone at (877) 589-7504 to receive assistance with moderate to severe water damage.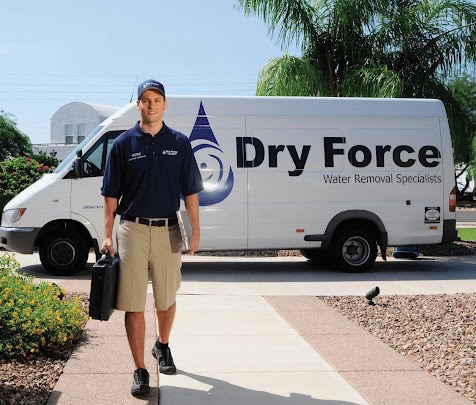 We Turn Chaos Into Calm™
Give Us a Call: