3 Types of Air Movers to Use for Severe Water Damage
Have you ever wondered how restoration companies combat the damage caused by water? One of the best pieces of equipment in a professional's arsenal is an air mover. Since they can dry an area more efficiently and faster than traditional fans, air movers are used to combat excessive water damage. They blow large quantities of air directly onto the affected areas, which moves the wet air and makes moisture evaporate quickly. The increase in airflow in the affected area allows for quicker drying.
Types of Air Movers
Not all water damage is the same, just as not all air movers have the same capabilities. There are various air movers that can handle different situations, and some jobs require more than one type of air mover. Your water restoration specialist will craft a drying plan unique to your property and situation and identify the right air mover for the job.
1. Centrifugal
The centrifugal air mover works by blowing air directly over the wet surface. This air mover or fan offers multiple speed settings for more flexibility. They can also be adjustable depending on different angles needed, which makes them ideal for different sized or shaped rooms. A centrifugal air mover is utilized for drying out buildings and removing moisture since it can move large volumes of air at high speeds. The air being blown can be directed to specific areas more quickly, which in turn speeds up the drying process.
2. Low-Profile
Like centrifugal air movers, low-profile air movers blow air directly over the surface being dried. The main difference between the two types is the size. Low-profile air movers are ideal for use in small spaces where a centrifugal air mover is too large. These air mover fans are designed to use less energy than a traditional blower fan while being able to move more air than a typical desk or floor fan. Low-profile air movers are ideal for use in closets, under desks, and in other tight spaces. They can also be stacked, which is helpful for storage and transportation purposes.
3. Downdraft
Also known as a "drum fan" because it resembles an old-fashioned clothes washer that had a water drum, downdraft air movers take air from above and transfer it down. These air movers are generally focused on one area to dry the space quickly by moving in 360 degrees.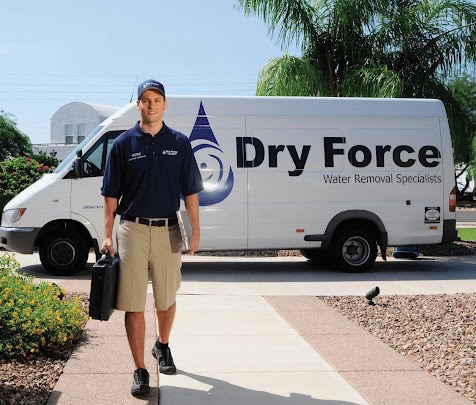 We Turn Chaos Into Calm™
Give Us a Call:
How Are Air Movers Best Used?
While it always depends on the situation at hand, here are some general guidelines you may see in action when using air movers to combat water damage.
One air mover per 400-500 square feet of hard flooring
One air mover per every 300 square feet of carpeting
Or one per every 100-150 square feet of high walls and ceilings
When a water damage restoration specialist arrives at your home and the drying process begins, air movers will be placed at the entrance of the affected area. As the air movers begin to dry the affected areas, the restoration specialist will check the humidity levels in each room to ensure proper circulation using a hydrometer.
If humidity levels stay consistent that means there is adequate airflow. If there is a difference in the humidity levels, the air movers will need to be shifted. Other air movers are placed strategically to target the perimeter of the area and ensure airflow reaches the center of the room.
Tips & Insights: Why Is My Washing Machine Leaking From the Bottom?
How Effective Are Air Movers?
There are two main considerations that determine the effectiveness of air movers: the area that needs to be dried and the type of air mover being used. If the area is humid, the air mover or fan may be counterproductive and move moisture to unaffected areas. Similarly, if you are trying to dry a large space, you will need the right-sized air mover for the job. Fortunately, your expert water restoration specialist will know how to utilize specific air movers to dry the area most efficiently.
Fast and Reliable Water Damage Restoration Services From Dry Force
If your property has been affected by water damage, you want to be sure you hire the right company to restore your property to its pre-loss condition. We offer innovative water damage restoration services in San Antonio, TX and other areas. Our technicians value your time and belongings. In addition, we only use the most advanced technology and equipment, and provide upfront and honest prices. Our expertly trained IICRC-certified technicians restore your property quickly using various types of equipment such as air movers, dehumidifiers, and HEPA air scrubbers.
Our staff provides a variety of restoration solutions for homes and businesses in Texas such as storm damage repair, roof leak maintenance, mold remediation, and flood damage restoration. When you put your property in our hands, you can count on fast response times within 60 minutes and 24/7 emergency services. Dry your property quickly with Dry Force water damage restoration services. Request your service online or call (877) 589-7504 for emergency service.