Flood & Water Damage Restoration Services in Keller, TX
Water Damage Restoration Specialists
Water damage is time-sensitive. The longer you wait to begin water removal, the more severe your damage will be. As much as you may prefer to take advantage of all The Keller Pointe has to offer, you're better off calling a professional water damage restoration company to prevent issues in your home. Our team of technicians offer innovative flood and water damage restoration services for homeowners and businesses in Keller, TX. Book an appointment with our team to receive assistance mild to severe damage.

Using the finest and most advanced tools in the industry, our qualified water specialists will remove all residual water from floors, walls, and furniture. Our non-destructive methods preserve the quality of wood floors and furniture and ensure moisture is non-existent. If your home has flooded due to a natural disaster, waker heater leak, or burst pipe, contact an experienced water restoration company. The trained professionals at Dry Force want to revive the condition and quality of your residence. Call (877) 589-7504 to speak with a certified technician about your water damage.
Choose Dry Force for Keller Water Damage Restoration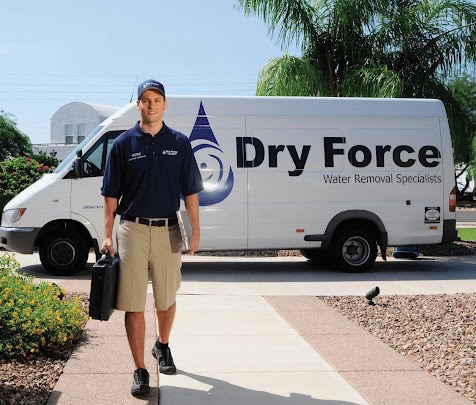 Why Keller Homeowners Choose Dry Force
---
- 24/7 emergency assistance
- 60-minute response times
- Upfront pricing, no hidden fees
- Industry-leading moisture extraction technology
- Superior customer service

- Advanced dehumidification and sanitization processes
- Assistance filing your insurance claim
- 100% satisfaction guaranteed
- IICRC certified technician


Water Damage Services Offered in Keller, TX
See What Our Customers Think
Robert Smith
March 20, 2022.
They were friendly, timely, and professional. Would recommend them!
Huong Mai
March 17, 2022.
Dry Force was referred to me by Wave Plumping. I had a slab leak in my house that required me to make an urgent decision on which route to repair my water leak. My decision was based on how much restorative work will need to be done to my house after the plumbing repair. Dry Force was able to come out within 1.5 hours from when I made a phone call for a same day consult. They were very professional and knowledgeable. Dry Force was able to work with my schedule to make it convenient for my time and also my renter's. They kept me in the loop with everything. They communicate very well and is very attentive to my concerns/needs and as well as my renter's. I highly recommend Dry Force for your restorative needs. I am starting the process of replacing things around the house that were damaged for the water leak.
Dry Force Water Removal Specialists is very high-end professional company. They were at my place with in half hour. Excellent job ethic. Mostly run by young Urbans. We'll mannered, serious about the best results of their job. I thank the management for seeking out. the best employees! Gage Josh
Julie Williams
March 2, 2022.
Every technician that came to our house was WONDERFUL! Shout out to Michael, Dylan (Mr. patches on his jacket), Gage and Kaylee. So friendly and knowledgeable. Will definitely remember to use Dry Force or recommend them to my friends and family!
Shanna Ellis
February 28, 2022.
Very thorough, very professional. Dylan did a great job and explained the process and answered all of my numerous questions. Cleaned up after deconstructing my wet flooring and took extra precautions to highlight and minimize trip hazards when I told him I had a young baby boy just learning to walk in the house. The gentleman who picked up my equipment was also very helpful and professional and took care to not wake up my sleeping baby which I greatly appreciated, unfortunately I didn't catch his name. The company called and gave me updates on the progress of drying time. Overall a great company to work with during a stressful time.