​​Top 7 Things to Do When a Pipe Bursts
When a pipe bursts in your house, you have seconds to locate and stop the issue before water damage repair costs skyrocket. Stay safe and hire a trustworthy water damage restoration company to help. A licensed technician will mitigate and revive your property. In addition, a professional will document and take photos to assist with filing your claim. To help you prevent structural damage and mold growth, we have created a list of the top things to do when a pipe bursts in your living space.
What To Do When a Pipe Bursts
Are you wondering what to do if a pipe bursts in your house? You're not the only one. A damaged water pipe can wreak havoc on your property. Fortunately, a member on our team can help you fix a burst pipe to prevent severe water damage in your house or property. When water pipes burst in your house, don't stress. Simply follow the steps listed below:
1. Shut Off the Water
The first thing you need to do when you encounter a pipe burst is stop the flow of water. You can do this by adjusting the main water valve in your house. Simply turn the valve clockwise using a meter key or by hand. To avoid severe water damage, it is helpful to know the location of your main water valve before an emergency happens.
If you're not sure where your valve is, check the following areas:
Basement
Crawl Space
Mechanical Room/Closet
Near the Furnace or Water Heater
Under the Kitchen Sink
Near the Curb or Sidewalk (Look For a Metal Plate)
2. Deactivate the Electrical Panel
After you've successfully stopped the water, locate the breaker box and turn off all electricity. This is an essential step to prevent accidental electrocutions.
Electrical panels can be stored in a handful of places:
Basement
Garage
Closet
Laundry Room
Outside
Be sure to stay away from standing water. If unable to find the fuse box, contact an experienced restoration company for immediate assistance.
3. Turn On a Sink
When you have a water pipe burst in your house, it may be helpful to gently turn on the faucet near the bust pipe. Slowly running water will drain the remaining liquid from the broken component, and relieve residual pressure, which may cause additional damage.
4. Call a Plumber Or Water Restoration Specialist
We know you love a good do-it-yourself (DIY) project, but a water pipe burst in your house should always be resolved by a professional. The team of technicians at Dry Force have the equipment necessary to help you resolve a broken pipe and combat water damage.. Our water restoration specialists will handle your stressful situation with compassion and respect. Contact the certified water damage professionals at Dry Force for a complimentary evaluation.
Consider looking for a certified professional on these sites:
Google
Yelp
Angi (formerly Angi's List)
Better Business Bureau
Tips & Insights: Does Homeowners Insurance Cover Water Damage?
5. Implement a Temporary Fix
In a severe water damage emergency, you may need to wait several days for professional service. To temporarily reinforce the pipeline, you can patch the pipe one of three ways:
Electrical Tape
For minimal cracks and holes, wrap duct or electrical tape around the impacted areas.
Epoxy Putty
For larger holes, plug the opening with epoxy putty. Once fully hardened, run water to assess leaks.
Sleeve Clamp
Another way to reinforce plumbing is with clamps. Secure as many sleeve clamps as necessary to plug holes.
6. Remove the Water
It won't take long to realize mold, mildew, and other residual problems of water damage can be worse than actual property damage. This is why time is of the essence. Prevent mold from forming on the floors, ceilings, and walls in your house by hiring a full-service water restoration company right away. A reputable company will utilize industrial-size blowers and dehumidifiers to combat moisture damage from a pipe burst. In addition, a professional will use blowers and dehumidifiers to remove visible and hidden water in your living space.
7. Open Your Cabinet Doors
If freezing temperatures led to your burst pipes, open closet, cabinet, and pantry doors. Doing so will encourage warm air to circulate throughout the bathrooms and kitchens.
Common Causes of Burst Pipes
Freezing
When temperatures drop below freezing, lingering water in your pipes can freeze. This will cause pressure to build and potentially break a weak joint in your plumbing system.
To prevent your faucets from forming ice inside, consider the following:
Turn Off Faucets At Night
Insulate Exposed Pipes
Use Pipe Sleeves (Thick Blankets)
High Pressure
Ideally, the water pressure of your pipes should be between 45 and 55psi. If any higher, the high pressure can cause your pipes to burst. When your home's water pressure is higher than 55psi, it's likely caused by the municipal water supply.
Attach a pressure gauge to the spout of your sink to check the water pressure levels.
Tips & Insights: Advantages Of Using a HEPA Air Scrubber to Combat Water Damage
Old & Outdated Pipes
Eventually, all plumbing components will deteriorate and require replacement. Contact a certified technician to determine the condition of your pipes.
If you live in an older home, the time to replace your pipes could be sooner than later.
Clogs
Clogs are one of the main causes of burst plumbing. Long-term clogs will likely result in a buildup of pressure.
Items that may cause clogs in your sink:
Food
Grease
Soap scum
Hair
Bathroom Products
Toothpaste
Roots
Nature has a mind of its own. This includes parched roots in search of moisture in the ground. Over time, tree roots buried deep underground may infiltrate your system and grow around your pipes.
Burst Pipe Cleanup & Water Damage Restoration Services
Has a water pipe burst in your house? Get in touch with Dry Force at (877) 589-7504 for 24/7 emergency services. Our team of technicians offer exceptional burst pipe maintenance and water damage restoration services for homes and businesses in Texas. We're a restoration company designed to serve you! In addition, our staff offers other types of restoration solutions such as storm damage repair, mold removal, and roof leak cleanup services. Using water removal technology, premium dehumidification, and advanced sanitization processes, we'll ensure the restoration and mitigation processes are done right the first time.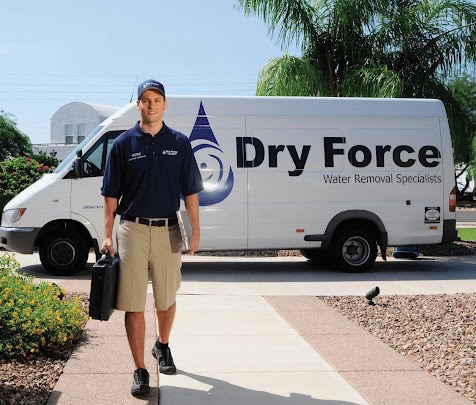 We Turn Chaos Into Calm™
Give Us a Call: