How to Fix Subfloors With Severe Water Damage
The subfloor is an essential component of your home, and most homeowners have never seen it. Just under the material you walk on is the subfloor providing extra support. When this layer of your floor is damaged, it could impact the structural integrity of your property. Though it usually takes months for this to happen, by the time you realize the subfloor is damaged, water has caused several other damages. To help you improve the safety of your home, we have created an outline of ways to fix subfloors with water damage.
Ways to Respond to Damaged Subfloors In Your Home
Find the Leak
First things first: locate the source of your water damage and make sure it has been repaired. There's no use fixing your subfloor if the water continues to leak. If rainwater is the culprit, look for exterior cracks and re-seal them, or place a gutter or awning to direct water leakage.
If an interior leak is the cause, investigate your plumbing. Use caution with all plumbing issues; consider hiring an expert before loosening pipes. You will find plumbing problems require expert assistance for a permanent solution, even if you handle the rest of the repair yourself.
Gather the Tools
Now that you've solved the problem, let's restore your home.
To do this, you'll need a few items:
Tape measure
Circular saw
Hammer
Pry bar
5/8" plywood
2×6 lumber
Galvanized nails
Remove Flooring
Using rubber gloves and safety goggles, remove the top layer of your flooring.
For Carpet
Pull it back to the nearest wall. You may need to remove baseboards to get to the carpet edges.
Tips and Insights: Ways to Eliminate Musty Odors Caused By Water Damage in Your House
For Vinyl
Cut around the repair area. Damaged vinyl can be replaced with a piece cut to the specifications after the repair is complete.
For Tile
Tile floors often adhere to a cement board layered between the subfloor and floor. Hire a contractor to help with the removal process.
Assess the Amount Of Damage
Now that you can see the extent of the water damage, you'll be able to determine how much subfloor needs to be replaced. Rotten wood will be buckled, discolored, and eaten away. Mark the damaged areas with chalk to identify what needs to be removed.
Remove Damaged Areas
Any area of the subfloor exposed to water damage and rot needs to be removed and replaced. Take a circular saw, set it to one-inch depth, and precisely cut the rotting subfloor areas you marked with chalk. Use a pry bar to remove damaged sections carefully.
Floor Joists Reinforcement
If the joists show signs of water damage, dry them out and reinforce them for extra support. The new boards will compensate for any original joists that suffered water damage.
Please note: Floor joists can't be cut out without compromising the structural integrity and foundation of your home. If you're not sure what to do, get in touch with a professional contractor.
Replacement & Installation
Next, measure the area where you removed water damaged subfloor material. Cut replacement pieces for the areas where you just removed subflooring.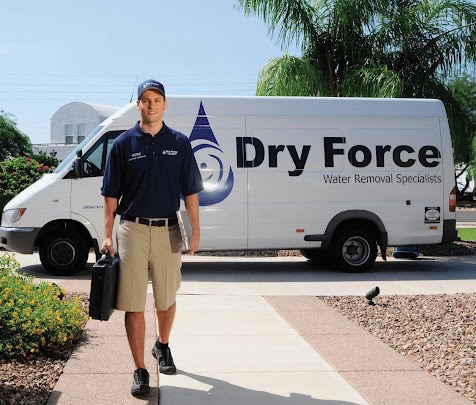 We Turn Chaos Into Calm™
Give Us a Call:
4 Reasons Your Subfloor Is Wet
Ruptured Plumbing
If the indoor temperature is lower than 32°F, the water inside your pipes can freeze. This drop in temperature can cause water expansion and a pipe burst. Damaged water lines can cause mild to severe water damage to the subfloors on your property.
Faulty Washing Machine or Dishwasher Hose
Supply hoses that run to your dishwasher or washing machine operate under pressure. Meaning the water moving through the hose is audible. Over time, this may weaken the hose and crack the line. As a result, water leaks and reaches your subflooring. Be sure to replace your hoses when necessary.
Tips and Insights: 3 Ways to Protect Yourself From Plumbing Leaks in a Crawl Space
Flood in the Crawl Space
During rainstorms, your roof and gutters collect large amounts of water. If you don't clean your gutters regularly, the water may surround the exterior of your home, flood the crawl space, and cause damage to other parts of your home.
Water Leaks In Exterior Walls
Another entry point for moisture in subflooring is exterior wall leaks.
Here's how you discover leakage:
Persistent odors
As water drips from leaky pipes, the sheetrock and flooring get damp and develop a musty smell.
Mold
Mold typically grows in warm wet areas. If you notice a growth on baseboards and walls in other rooms, you likely have an undetected water leak.
Growing stains
Mold can sometimes lead to large stains on the ceiling and walls, which indicates a plumbing malfunction.
Water Damage Restoration Services From Dry Force
When facing water damage, the best option is to call a professional at Dry Force for help. In your time of need, there's no company better than Dry Force. Our team of technicians offer dependable water and flood damage restoration services in Austin, TX and other areas. We have all the tools and expertise necessary to repair the affected areas and return your home to its pre-loss condition.
In addition, our technicians provide other types of restoration solutions such as roof leak maintenance, burst pipe cleanup, storm damage repair, slab leak detection, and crawlspace drying. With a home free from water hazards, you'll regain your peace of mind. Give our staff a call by phone at (877) 589-7504 to receive assistance with water damage in your living space or business. Dry Force is the fastest way to get the chaos of water damage under control. We Turn Chaos Into Calm™