Flood & Water Damage Restoration Solutions
When water damage strikes, acting fast can help prevent mold and bacteria growth as well as save your personal belongings from further damage. We offer exceptional 24/7 flood and water damage restoration services for homes and businesses in Grand Prairie, TX.  Our team is available to help you throughout every step of the process. We'll ensure your property is restored to its pre-loss state. 
Don't let water damage cause you any more stress. You can watch the thoroughbreds race at Lone Star Park or catch an AirHogs game if they're in town while we restore your property. Give our team a call by phone at (877) 589-7504 or book an appointment online to receive a free evaluation of your property from our IICRC-certified experts. With over 14 years of experience and 40,000+ water restoration projects under our belt, we'll provide you with precious peace of mind. We Turn Chaos Into Calm™.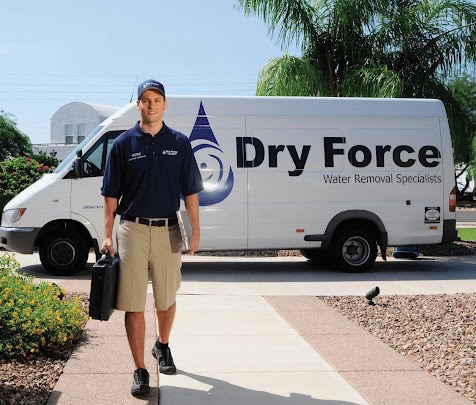 Call for a free evaluation
Standing water can cause permanent damage. Act now and let Dry Force prevent the damage from getting worse. Some of the common services we perform are listed below. Select a tile to learn more about the specific service we offer:
Why Grand Prairie Homeowners Choose Dry Force
Robert Smith
March 20, 2022.
They were friendly, timely, and professional. Would recommend them!
Huong Mai
March 17, 2022.
Dry Force was referred to me by Wave Plumping. I had a slab leak in my house that required me to make an urgent decision on which route to repair my water leak. My decision was based on how much restorative work will need to be done to my house after the plumbing repair. Dry Force was able to come out within 1.5 hours from when I made a phone call for a same day consult. They were very professional and knowledgeable. Dry Force was able to work with my schedule to make it convenient for my time and also my renter's. They kept me in the loop with everything. They communicate very well and is very attentive to my concerns/needs and as well as my renter's. I highly recommend Dry Force for your restorative needs. I am starting the process of replacing things around the house that were damaged for the water leak.
Dry Force Water Removal Specialists is very high-end professional company. They were at my place with in half hour. Excellent job ethic. Mostly run by young Urbans. We'll mannered, serious about the best results of their job. I thank the management for seeking out. the best employees! Gage Josh
Julie Williams
March 2, 2022.
Every technician that came to our house was WONDERFUL! Shout out to Michael, Dylan (Mr. patches on his jacket), Gage and Kaylee. So friendly and knowledgeable. Will definitely remember to use Dry Force or recommend them to my friends and family!
Shanna Ellis
February 28, 2022.
Very thorough, very professional. Dylan did a great job and explained the process and answered all of my numerous questions. Cleaned up after deconstructing my wet flooring and took extra precautions to highlight and minimize trip hazards when I told him I had a young baby boy just learning to walk in the house. The gentleman who picked up my equipment was also very helpful and professional and took care to not wake up my sleeping baby which I greatly appreciated, unfortunately I didn't catch his name. The company called and gave me updates on the progress of drying time. Overall a great company to work with during a stressful time.
Flood Damage Restoration Services
Floods aren't always caused by extreme weather events. Mild to severe storms can cause floods in homes and damage to pipes, appliances, and properties. We provide innovative water and flood damage restoration services to homeowners and facility operators in Grand Prairie, TX. Regardless of the causes of the severe flood, our team is available to help.
Our technicians are hard at work restoring your property from the moment they arrive on-site. You can expect the following flood restoration services from Dry Force:
Water removal

Advanced drying processes

Removal of unsalvageable materials

Mold prevention

Structural cleaning and disinfection
Storm Damage Repair & Maintenance Solutions
The weather in Texas is unpredictable and changes in an instant. Storm damage can be devastating for homeowners and businesses. If not addressed immediately, it can lead to mold, electrical damage, and structural damage that can devalue your property. Our staff provides reliable water and storm damage restoration services in Grand Prairie, TX. If a storm damages your property, give our technicians a call to receive assistance with removing excess water on your property.
Benefits Of Using Our Storm Damage Repair Services
Streamline Property Restoration
Getting your property back to its pre-damaged condition minimizes your losses and gets you back to your normal life.
Mold Prevention
Don't let mold grow out of the water damage the storm caused. The staff at our company offer exceptional mold remediation and water damage restoration services for homes and businesses in your area. We will stop mold in its tracks and take preventive measures to ensure it doesn't grow after we're gone.
Detail-Oriented
Dry Force technicians use HEPA air scrubbers, vacuums, pumps, and other high-caliber equipment. Combined, these high-tech tools clean, sanitize, and remove every molecule of water. We know where water hides; we make sure all those hard-to-reach areas get covered.
Safety Minded
Stormwater can bring bacteria and contaminants into your property. Keep yourself and your family safe with Dry Force storm damage repair services.
Insurance Assistance
Throughout the restoration process, Dry Force documents and records damage. The detailed photographs and paperwork will help with the filing of your insurance claim.
Roof Leak Restoration Services
A leaky roof can lead to property damage like electrical shortages and mold growth. If you've noticed water dripping from the roof or water stains on your ceiling, you could have a leak in your roof. Correcting the damage can ensure the roof over your head keeps you safe and secure. That's why many Texas property owners trust Dry Force with their roof leak restorations.
Dry Force technicians restore roofs and ensure the safety and integrity of properties.
The Most Common Causes Of Roof Leaks Are:
Clogged Gutters
Melting Snow
Plumbing & Water Overflow Restoration Services
If moisture damage strikes your property, the team at our water damage restoration company will help you remove excess moisture in your living space or facility. When a sink, tub, or toilet overflows it can disrupt your life and cause structural damages and pose fire hazards. Water damage can lead to corrosion, ruined walls and floors, and unpleasant mold. Luckily you're not alone when you call Dry Force to restore your property. Our technicians work hard to provide you with the care and attention you deserve.
Dry Force is Texas's trusted water damage restoration company for a reason. We work with compassion and integrity to earn our trust through the quality of our work. Experiencing any amount of water damage is difficult, and we're here to provide the best service to get you back to your life quickly and comfortably.
Discover the difference Dry Force makes.
IICRC-certified and background-checked technicians

14 years of experience

40,000+ water restoration projects completed

6,000+ water reconstruction projects completed

60 minute response time

Emergency service available 24/7/365

Text message notifications

State-of-the-art restoration and mitigation technology
Call Our Team


 (877) 589-7504