How to Repair Water Damage On Plaster Walls
Plaster walls are not commonly used for new builds, but if you live in an older home, the walls may be made of lath (strip of wood) and plaster. When this type of structure is exposed to water, humid air, or condensation, it can cause severe damage. We have created an outline of how to fix water damage on plaster walls in your living space.
Steps to Fix Water Damage on Plaster Walls
When you notice that your plaster walls are bubbling, flaking, or stained, there is likely some water damage. Here is how to repair water-damaged plaster walls without causing more damage.
Step One: Assess the Damage
If you caught the water early, it might have only affected the outer layer of plaster. If the water damage has been there for some time, it may have penetrated all coats of plaster and saturated the lath. If this is the case, contact a professional to assess potentially damaged rotten wood or rusted metal.
Step Two: Remove the Damaged Plaster
Next, you will have to remove the plaster with water damage. Discard the bubbling, flaking, or peeling material with a putty knife. Scrap the wet, damaged plaster until you hit hard plaster.
Tips & Insights: Do I Need to Replace Subfloors With Water Damage?
Step Three: Clean the Dust
Remove any loose plaster particles with a stiff brush and vacuum any excess.
Step Four: Wash the Surrounding Area
Use clean water and a sponge to wash the surrounding area, then allow the wall to dry completely.
Step Five: Prime and Seal
Oil-based primer-sealers work best to block residual contamination and prevent stains. Let the quick-dry primer dry for about an hour before moving on to the next step.
Step Six: Make the Repair
Next, you'll apply several thin coats of a joint compound. Spread the compound thin and evenly, and scrape any excess off the area. When dry, sand to a level and even surface. Continue this process several times to make a long-lasting and invisible repair.
Step Seven: Paint the Plaster Wall
When your final coat of compound is dry and sanded smooth, wipe off excess dust with a damp cotton cloth. Paint the plaster wall to ensure it matches the other walls in your living room.
What Happens When Plaster Walls Get Wet?
This isn't an easy question to answer because the result depends on the amount of water, so let's break it down.
Small Amount
A minor amount of water, from wet clothing or a spill, isn't detrimental to a plaster wall. Simply wipe off the wall with a dry cloth quickly, and your wall will remain solid and intact. To ensure all moisture is dry, aim a fan at the affected area to speed up the drying process.
Large Amount
A significant amount of water on a plaster wall can quickly soften and loosen the plaster. If the moisture sits on the flat surface for too long, it can cause water damage to your plaster walls. Not to mention, moisture will cause mold, negatively affecting the condition and air quality in your home.
Tips & Insights: What Are the Main Types Of Pollutants in Stormwater?
Saturation
If the wall is saturated with water, the wood lath behind the plaster will absorb water and begin to expand. As it expands, it pushes outward and can cause the wall to crack and weaken. If this happens, you will need to repair or replace the plaster wall.
Replacement
The best option for water-damaged plaster is to remove the wall with pry bars and refinish it with modern drywall. When tearing out the wall, wear a dust mask and ventilate the room. Your plaster walls may have been painted with lead paint, which can cause a health risk.
Water Damage Restoration Services From Dry Force
If you have water-damaged walls, do not panic. Our team of professional technicians offer convenient water and flood damage restoration services in San Antonio, TX and other areas. We can handle everything from cleanup and construction to assisting with insurance claims. In addition, our staff offers other types of restoration solutions including roof leak maintenance, burst pipe cleanup, sewage backup restoration, mold remediation, and storm damage restoration.
Whether it's a single room or an entire home or business, Dry Force delivers the best water cleanup services. Our certified water damage specialists are available 24 hours a day, seven days a week for water damage and fire cleanup. We Turn Chaos Into Calm™. Dry Force is the fastest way to get water damage under control. Give our team a call by phone at (877) 589-7504 to receive assistance with water damage on plaster walls in your home.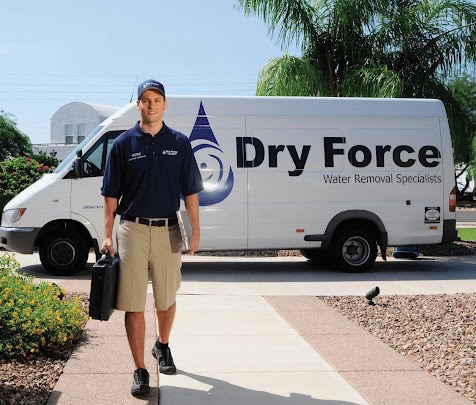 We Turn Chaos Into Calm™
Give Us a Call: