5 Ways to Protect Your Kitchen Cabinets & Sink From Water Damage
Occasionally, water from your sink or pipes can find its way into cabinets underneath and around it. Depending on the severity of the water damage under your sink and cabinets, you may be able to resolve the issue yourself. It could be as easy as removing the contents of the cabinets and drying them out. However, some cases may be more extreme and require the help of a professional. We have created an outline of how to fix water damage under your kitchen sink and cabinets. In addition, you will also receive tips on protecting your cabinets from water damage.
How to Protect Your Cabinets & Sink From Water Damage
Don't let water damage under your kitchen cabinets ruin your day. Here are some practical ways you can protect your cabinets.
1. Waterproof Shelf Liner
One way to protect your cabinets is with a flexible waterproof shelf liner. These are designed to perfectly fit your cabinets, keeping them dry and protected from water and dust. Some waterproof shelf liners come with an adhesive, but non-adhesive options are available. Just be sure to get the right measurements down when covering your cabinets.
2. Waterproof Stain Sealant
If you have wood cabinets, you should invest in a waterproof stain sealant. Applying a sealant helps prevent water damage under your kitchen sink and cabinets. In addition, it will help preserve the elegant look of your cabinetry. To seal them properly, sand and prime your cabinets first. Then apply a food-grade varnish that is made for kitchens. Let the varnish settle for a few days before placing any contents back in the cabinet.
3. Peel and Stick Vinyl Tiles
Similar to adhesive waterproof liners, peel and stick vinyl tiles provide adequate protection against water damage. You can cut vinyl tiles to perfectly fit your cabinet surface, leaving no parts unprotected.
Tips & Insights: How to Prevent Water Damage On Wood Floors
4. Regularly Check For Leaks
Being proactive doesn't get any easier than this. Simply poking your head under the sink to ensure pipes aren't leaking can save you a lot of stress.
5. Seal Everything
If water can't get into your cabinets, it can't cause damage. An easy way to prevent water damage under your kitchen cabinets is to use caulk or a sealant to seal up the area around your sink.
How to Repair Water Damage to Cabinets & Sinks
Once you see water damage, you should take action as soon as possible to prevent more. Follow these steps to keep damage to a minimum.
1. Remove Contents
The first thing you want to do is remove any content like food, supplies, or whatever else you have stored in your cabinets. With contents removed, check how damp the cabinet area is. If there is a pool of water still there, wipe it away and let the area dry. It might help to remove the cabinet doors to allow yourself more space. This also may help the drying process.
2. Remove the Affected Area
Any water-damaged areas should be removed, including the kitchen cabinet base. You can knock out damaged areas with a hammer.
Tips & Insights: Ways to Eliminate Strange Smells From Water Damage in Your Home
3. Perform Repairs
Repairs may be necessary, but some parts like the cabinet base can be easily replaced. Follow these steps to replace it:
Start by building a frame for it
Place the frame on the cabinet floor
Measuring the old base
Trace those measurements on top of the new base
Secure the new base to the cabinet floor
Sand it down and apply a sealant to waterproof it
Why Are the Cabinets Under Your Kitchen Sink Vulnerable to Moisture?
The kitchen cabinets under your sink are vulnerable to water damage because they are located close to your pipes. Small leaks from pipes may go unnoticed over time, dripping water onto the cabinet base. Other causes of water damage under your kitchen sink include overflows. If you notice a leaking water line or burst pipe near your dishwasher, the cabinetry around the appliance may be vulnerable to flooding and damage.
Our Plumbing & Overflow Cleanup Services From Dry Force
Don't let an overflowing kitchen sink or pipe leak ruin your day. Call Dry Force immediately, any time of day. We offer 24/7 emergency and non-emergency plumbing & water overflow cleanup services. Our team of technicians offer fast and safe flood damage restoration services in Fort Worth, TX and other areas. Our team can handle anything from cleaning up to helping you file your insurance claim. We Turn Chaos Into Calm™. In addition, we offer other types of restoration solutions such as storm damage repair, roof leak cleanup, burst pipe maintenance, and slab leak detection.
Whether a single kitchen cabinet is water-damaged or the entire cabinetry, our technicians have the experience and equipment to restore cabinets to their original state. As soon as you notice water damage, give our certified specialists a call at (877) 589-7504.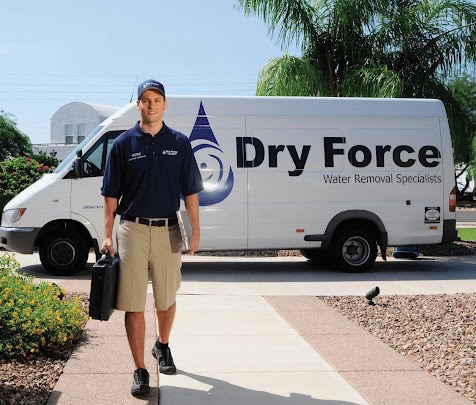 We Turn Chaos Into Calm™
Give Us a Call: