Stafford, TX
Call (877) 589-7504 For 24/7 Emergency Water Damage Services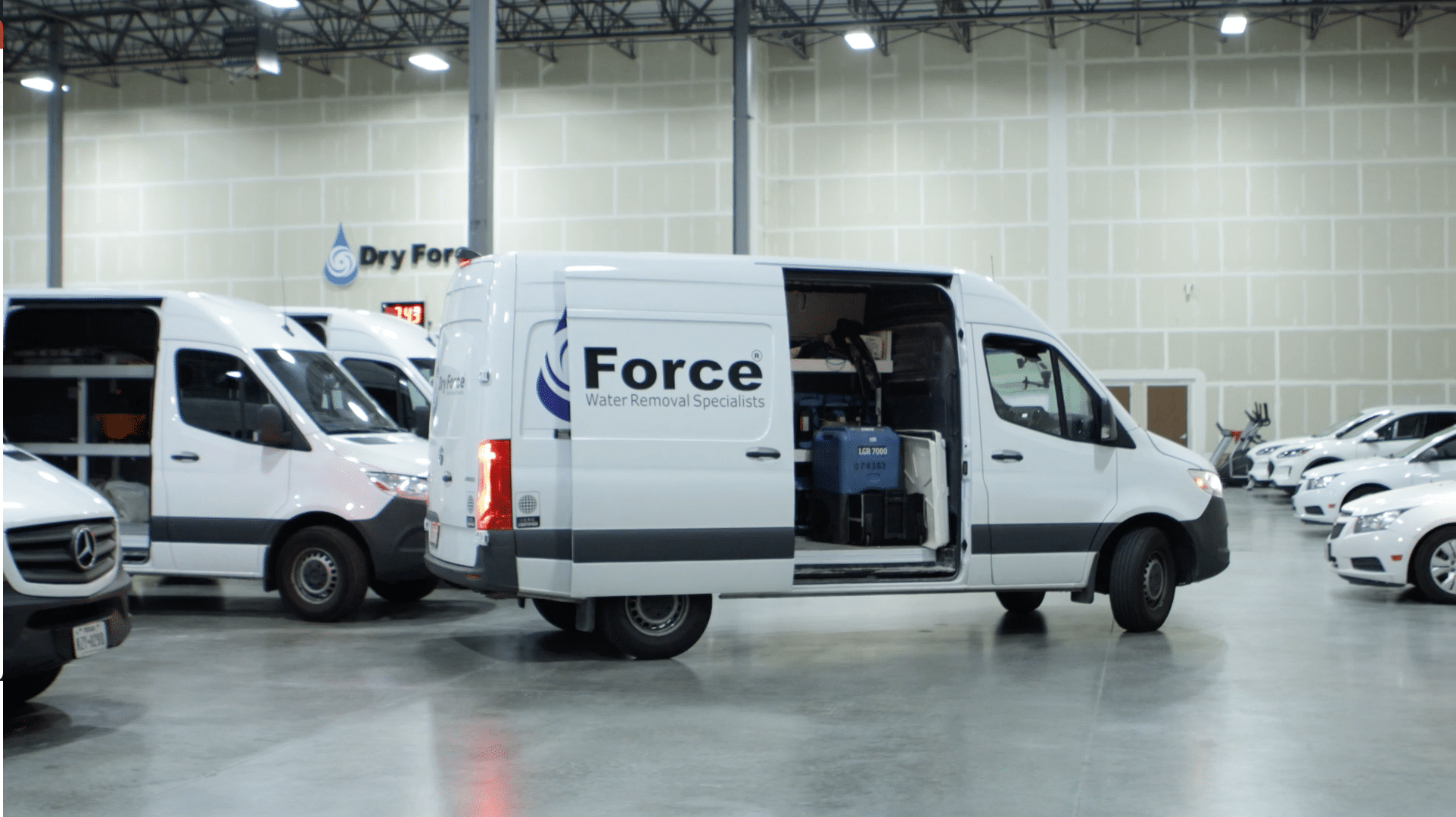 Comprehensive Water Mitigation Services
Water damage can be a major disruption, no matter how minor it may be. It doesn't matter whether you are experiencing a small leak or a full-blown flood—any amount of water damage can turn an ordinary day into a disaster. At Dry Force, we help turn disasters around in no time.
Our team of experienced professionals is dedicated to providing convenient water damage restoration and mitigation services for homeowners and businesses in Stafford, TX. We will restore your property to its pre-damage condition, ensuring your peace of mind with every service.
Thanks to our comprehensive services, state-of-the-art equipment, and commitment to complete customer satisfaction, you can trust us to handle any amount of water damage in your home or business. Give our professionals a call by phone at (877) 589-7504 to speak with a technician at our water mitigation company.
Water Removal and Restoration Process
The team at Dry Force adheres to a five-step process when mitigating water damage. We leave no stone unturned. Our IICRC-certified technicians are trained to handle every step of the process, from the initial assessment to final restoration. Wondering how Dry Force will handle your water damage? Here is an overview of our process:
Inspection and Assessment
We will dispatch a technician as soon as you call us. You can count on a team member to arrive at your property in Stafford, TX in 60 minutes or less, guaranteed. Once on your property, we will assess the extent of the water damage and develop a customized restoration plan.
Next, we
extract all the water
using powerful drying equipment. Dry Force uses advanced tools and industrial-strength vacuums to extract standing water and moisture from your property, minimizing the risk of further damage and mold growth.
Drying and Dehumidification
After thoroughly extracting all standing water, we get to work on drying and dehumidifying the area. Although we extract all water from the area, moisture can still linger around. We perform this step to nip any potential risk of
mold growth
in the bud.
Cleaning and Sanitization
Next, we clean and sanitize all affected surfaces, eliminating any contaminants that may have attached to your walls, floors, and personal belongings. We offer trustworthy water mitigation services for homes in Stafford, TX and will help you salvage any valuable items that may have been caught in the water damage.
Finally, our skilled professionals will restore your property to its pre-loss condition. Our team handles everything from repairing walls and floors to ceilings and fixtures. You can count on us to bring back the home you know and love.
Water Extraction Services in Stafford, TX
The best defense against water damage and mold growth is efficient water extraction. When we mitigate your affected area, we make sure to extract all excess water.
The highly trained technicians at our water mitigation company will quickly remove moisture from your property in Stafford, TX. This will help minimize the risk of structural damage and mold growth. We're racing against time, so acting fast and extracting standing water in a timely manner is key to preventing future problems.
Homeowners and business owners in Stafford know who to call when faced with a water disaster. Dry Force offers fast and dependable water damage restoration services in Stafford, TX, and surrounding areas. The last thing you want after a water damage disaster is constant interruptions. With our remote monitoring system, we work efficiently without interrupting your day. We understand that water emergencies don't always come with a warning. This is why our water damage specialists are on call 24/7 to meet your needs in your moment of need.
Burst Pipe Cleanup and Restoration Services
Dealing with a burst pipe is stressful. Even though a burst pipe typically boasts obvious signs like water-stained ceilings and leaks, sometimes it's hard to pinpoint the affected area. Don't wait for the problem to worsen. Contact Dry Force for 24/7 emergency burst pipe cleanup and restoration for immediate assistance.
Dry Force specializes in handling various burst pipe situations, including:
Frozen pipes

Corrosion pipe bursts

Pressure test pipe bursts

Deteriorated pipes

Supply line breaks
Roof Leak Repair and Restoration Services in Stafford, TX
Have you noticed a suspicious drip coming from your ceiling? If so, you might have a roof leak lurking above your ceiling. Roof leaks can start small, but they eventually grow into a huge problem.
Dry Force offers top-notch roof leak repair and water mitigation services for homes and businesses in Stafford, TX. When you contact us for a roof repair, our team wastes no time. Call our restoration specialists at (877) 589-7504 for emergency roof assistance.
Dry Force handles problems caused by the following issues:
Rainwater
Snow melting
Storm water damage
Ice dam leak
Clogged gutters
We Serve Homes and Businesses in Stafford, TX
The team at Dry Force is proud to serve both homes and businesses in Stafford, TX. Going through a water damage disaster is a harrowing experience, so why not allow yourself to have a little fun while we work? What better way to do it than in your local area?
The local Stafford area offers a wide range of things to do, including visiting local parks, exploring historical sites, and enjoying various restaurants. Visit a vineyard, bring your family to the local skating rink, or dine on the finest foods in Texas. Leave the water damage mitigation and restoration to us, and we will make sure you come back to a fully restored home.
Call for a free evaluation
Standing water can cause permanent damage. Act now and let Dry Force prevent the damage from getting worse. Some of the common services we perform are listed below. Select a tile to learn more about the specific service we offer:
Why Homeowners in Stafford, TX Choose Dry Force
Brian Ousley
July 26, 2023.
Ace showed up on time for the consultation and was very professional and friendly. He was very detailed in his inspection. He did not find any water damage. I highly recommend this company.
Elaine Andrepont
July 26, 2023.
Totally satisfied with DRY FORCE water removal systems. Each and every person that called to schedule appointments or visited my home for removing water were professional. Dry Force, workers upon entering my home showed respect while they they took the time to protect the integrity of my home with politeness, care and consideration for my safety. So pleased with their professionalism, I wholeheartedly recommend Dry Force as your number 1, go to source for your home. I'm extremely happy that my brother recommended Bill & Cody for whom highly recommended Dry Force to me. ELaine Therese Andrepont ETA🌹
Deborah Mullen
July 25, 2023.
Nick W. was very quick and has great customer service!
Court Monroe (Courtbel2011)
July 25, 2023.
They were amazing! 100% recommend!
greg corley
July 23, 2023.
Nick w was thorough in his explanations
David Bader
July 22, 2023.
Nick W. Very professional. Explained everything in detail and helped with insurance company. Highly recommended.
Emergency Water Damage Restoration Services
Stafford residents know there is no better option than Dry Force. As the premier water mitigation company in Stafford TX, you can depend on the renowned services and unmatched professionalism provided by our team. From the moment we arrive on your property to the second we say goodbye, you can count on a job well done. We take your home and safety seriously, so give us a call. We have your back, no matter the day or time.