How to Repair Laminate Flooring With Water Damage
There are several reasons why you would choose laminate floors for your home. This type of flooring is affordable, aesthetically pleasing, and durable. In addition, laminate flooring is very forgiving. The occasional spill or leaking appliance may not impact the condition of these floors—but a full-on flood will. When you ignore water-damaged laminate floors, they may bend, buckle, or become more damaged over time. We will be discussing how you can repair laminate flooring water damage.
How to Fix Laminate Floors With Mild Water Damage
Laminate flooring can get wet, but only the top. If liquid saturates the sides of laminate flooring, open seams, damaged areas, and bottoms, you could have a big problem on your hands. Here's what you need to do to repair water-damaged laminate flooring.
Check and Stop Leaks
Assess the condition of all appliances such as water heaters, dishwashers, washing machines, and air conditioning systems near the damaged area. Ensure any malfunctions are repaired, and leaks are fixed. Ignoring the damage from the flooring can lead to severe consequences. If you can't find the leak, ask for help from a professional.
Prepare Tools
To properly repair water damage, you need the appropriate tools:
Safety glasses
Putty knife
Flooring adhesive
Measuring tape
Utility knife
Pliers
Hammer
Cleaning solvent
Replacement underlayment material
You will also need to replace the damaged planks. Go to your local hardware store and look for the same design.
Remove the Damaged Planks
Once you have all the materials to repair water-damaged laminate, the next step is to remove the damaged planks.
Start by pulling the damaged planks carefully. Use a putty knife on the damaged edges.
Remove the entire board, even if a small part of the plank is damaged. If you don't, the plank's condition will worsen over time.
After rooming the plank, you should see the exposed floor beneath.
Check the bare floor for signs of mold and clean with disinfectant before installing the new planks.
Tips & Insights: Steps to Fix Water Damage On Plaster Walls In Your Home
Replace the Damaged Planks
Check the replacement planks and see if they fit perfectly on the bare floors. The next step to repairing laminate floors with water damage is to apply the adhesive and install the new flooring in the correct location. After they are in the correct spot, put a heavy object on the new laminate flooring until the adhesive dries. This ensures the plank dries properly. When installing new flooring, let the laminate acclimate to the temperature of the room. Leave the planks in the room for at least 24 hours before installation.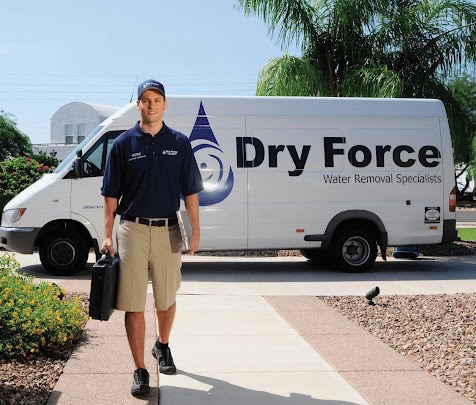 We Turn Chaos Into Calm™
Give Us a Call:
Frequently Asked Questions (FAQ's) for Laminate Flooring
Can Water-Damaged Laminate Flooring Be Fixed?
Yes, but we don't recommend it. Once a laminate flooring has been significantly damaged, making repairs can ruin the aesthetic of the plank. Replacing laminate boards is usually the best solution.
How Do You Repair Water-Damaged Laminate?
Remove lingering water and wait until the flooring is dry. Then use wood glue or carpenter's glue to adhere small sections of delaminated layers. Use a small amount of glue, then push down the area, wiping off excess glue. Then weigh down the repair area until it's dry.
Does Waterproof Laminate Flooring Exist?
Unfortunately, it does not. As long as laminate flooring contains wood, it will always be susceptible to moisture damage. Vinyl flooring looks very similar to laminate flooring but doesn't have moisture sensitivity.
Water Damage Restoration Services From Dry Force
If you need assistance with mild to severe laminate flooring water damage, give our team a call by phone at (877) 589-7504 to schedule an appointment. Our professionals will resolve your water damage and help you get back to normal life. Our team of licensed technicians offer exceptional water and flood damage restoration services in San Antonio, TX and other areas.
Our staff provides other types of restoration solutions such as storm damage repair, roof leak maintenance, appliance water leak mitigation, and and burst pipe maintenance. Our teams have the experience, equipment, and support to handle everything from initial cleanup to final reconstruction. Find out why Dry Force has become one of the largest and most respected water damage restoration companies. Call for a free evaluation.
Tips & Insights: 3 Signs Of Water Damage Under Your Tile Flooring