How Can I Prevent Water Damage to Tile Flooring?
Tile is one of the most popular types of floors installed in homes and businesses because it's water-resistant. However, the components required to install tile can become worn out throughout the years, making your tile floors susceptible to water damage. If you see signs of water damage under your tiles or have water leaking through the floor, do not have an anxiety attack. Review the ways to avoid severe water damage to tile flooring and prevent water from leaking.
3 Signs Of Water Damage Under Tile
Some signs of water-damaged tiles are easier to spot than others. Recently flooded areas may have loose tiling, which is relatively easy to identify. However, a slow leak from a dripping pipe is much more difficult to locate.
Loose Tiles
You may have water damage under your tile floor if the tile is resistant to sticking to the floors or walls of your home. Oftentimes, moisture causes tiles to become uneven or irregular.
Hollow Sounds
Water-damaged tiles may sound hollow if there's a leak. Tap a few tiles with a coin; if it sounds hollow, you may have a leak.
Staining
If you notice discoloration on the floor in your living space, this is a sign of water damage to your tile flooring. The source of the damage may be a leak from an appliance in your home. Be sure to rule out other reasons for staining, such as forgotten spills or tile erosion.
Ways to Prevent Water Damage to Tile Flooring
Tile is very low maintenance. In fact, you don't have to do much to prevent leaks under tile floors.
Use the appropriate tiles
During installation, and reinstallation, pay attention to the density of the tiles:
Non-vitreous
Tiles in this group absorb 7% or more of their body weight. For indoor usage, the stones are normally used for backsplashes.
Semi-vitreous
The materials in this category are for indoor use. They absorb between 3% and 7% of their weight in water.
Vitreous
Suitable for both interior and exterior usage. Vitreous tiles absorb between 0.5% and 3%.
Impervious
The densest materials (like porcelain tiles) are included in this group. They absorb between 0.001% and 0.5% of their weight.
Update worn-down grout
Water damage doesn't impact the condition of the tiles. However, it can degrade the integrity of grout and adhesive. When you notice irregular tiles, do yourself a favor and regrout.
Tips & Insights: How to Prevent Water Damage to Wood Floors
Clean spills right away
It's only a matter of time before liquid spills on your floors, especially in the bathroom. If you accidentally spill liquid in your kitchen or bathroom, the easiest way to prevent water damage to your tile flooring is to clean up the water as soon as possible.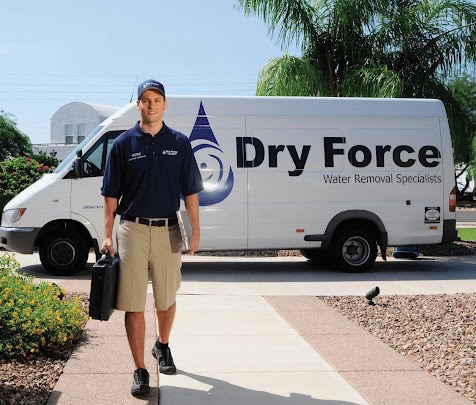 We Turn Chaos Into Calm™
Give Us a Call:
How Unsealed Grout Causes Water Penetration and Damage to Subflooring
Grout bonds individual tiles together on your flooring. You see this grout when you look at finished tiling. However, if grouting is unsealed, your subfloor is vulnerable to excessive damage.
5 Ways Water Can Damage Tile Floors
Water From Heavy Rain
Weather can cause intense and unpredictable water damage. One heavy downpour can result in severe flash floods. Moisture that infiltrates improperly sealed grout will loosen all surrounding tiles.
Flooding from a Faulty Dishwasher
If the door lock on your dishwasher fails, water can pour out from the front of your machine. Similarly, components connecting the drain line to the motor can malfunction. This will cause a water leak near the back of the appliance. If your dishwasher is leaking water on your tile floors, you will need to deactivate your system immediately when you discover a leak in your kitchen. This issue can cause a substantial water leak behind your appliance.
Malfunctioning Water Heater
If an old water softening system or water heater fails, internal parts may dislodge or erode, causing water to spill onto the floor. If these appliances are hidden in a closet or are out of sight, water can infiltrate a variety of spaces.
Slowly Leaking Plumbing
Imagine this: small, slow leaks from plumbing under a sink, behind a wall, or behind an appliance—what a nightmare. If not caught right away, water may travel underneath your flooring and degrade the condition of your tiles, grout, and adhesive.
Water Damage Restoration Services From Dry Force
Standing water can cause permanent damage. Act now and let our technicians prevent the damage from getting worse. Our team provides exceptional water damage restoration solutions in Dallas, TX and other areas. Regardless of the size or difficulty of the water damage restoration project, Dry Force has the tools, technology, and experience to get things back to normal following a water emergency.
In addition to offering support for water damage, we offer a variety of other restoration solutions. Our technicians offer various types of restoration solutions such as storm damage repair, roof leak maintenance, flood damage restoration, sewage backup maintenance, and crawlspace drying. Give our team a call by phone at (877) 589-7504 to receive assistance with water damage.
Tips & Insights: Why Is My Washing Machine Leaking From the Bottom?