Pecan Grove, TX
Call (877) 589-7504 For 24/7 Emergency Water Damage Services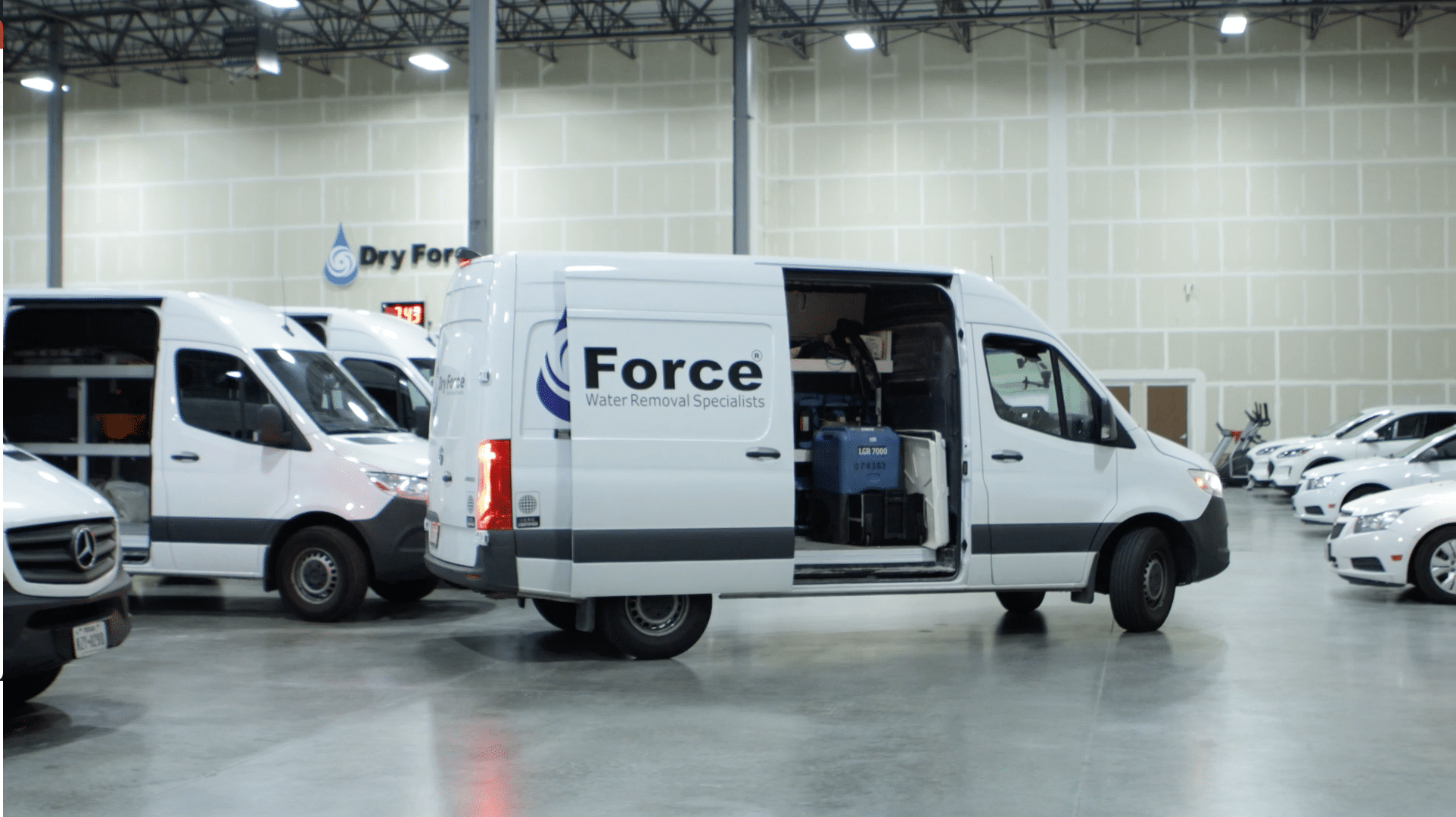 Trusted Water Mitigation Services in Your Local Area
Suffering from water damage can leave lasting effects if not dealt with right away. Mold, mildew, and structural damage are all issues that can arise from floods, appliance leaks, and burst pipes. Luckily, our team offers superior water mitigation and extraction services for homes and commercial properties in Pecan Grove, TX. Give our staff a call at (877) 589-7504 to receive assistance with an emergency on your property.
The team at Dry Force understands the devastating impact water damage can have. Whatever the source is, water damage can throw a wrench into the works. This is why we offer restoration and extraction services to help businesses and homeowners in Pecan Grove recover from water disasters. With a fleet of experienced technicians and top-of-the-line equipment, Dry Force is the go-to water extraction company in the local area.
Water Removal and Restoration Process Steps
No job is too small for our team of water extraction technicians. Regardless of the severity of your water damage situation, the team at Dry Force adheres to a five-step mitigation plan for water removal and restoration.
Once you discover water damage in your home or business, the staff at Dry Force will be on your property within an hour to assess the situation.
About two hours after your call, our team will utilize moisture meters, digital thermal cameras, and hammer probes to determine wet areas on the surface and behind the walls of your property.
Dry Force uses modern technology and the latest equipment to dry, clean, and sanitize the affected area. We set up equipment around two to three hours after your initial call.
We are experts in remote monitoring. After we clean, dry, and sanitize, we will administer remote monitoring readings every five minutes. These readings help us eliminate any remaining wet areas in your home. Plus, we won't have to interrupt your day with frequent visits.
Finally, we provide you with thorough documentation of our water mitigation services. This step takes roughly three to five days to complete. Once we have finished compiling photos and written reports, we will send you all documentation for your records.
Water Extraction Services in Pecan Grove, TX
If water has infiltrated your property, there is no time to waste. Once water floods your home, a call to Dry Force is in order. Our water extraction services in Pecan Grove, TX are designed to minimize further damage to your property.
By using advanced equipment and techniques, we remove standing water and excess moisture from carpets, floors, walls, and furniture. Don't jeopardize the health of your household. Contact the professional restoration company you can trust.
Dry Force has decades of experience mitigating, repairing, and restoring homes in Pecan Grove. When you choose a service from Dry Force, you are choosing:
Burst Pipe Cleanup and Restoration Services
Discovering a burst pipe at home can be distressing, but you don't have to face it alone. Remain calm, and trust the professionals at Dry Force to handle the situation promptly and effectively.
With our around-the-clock emergency water damage mitigation and restoration services, homeowners in Pecan Grove, TX, can count on our team for immediate assistance. Our technicians help residents who are dealing with floods resulting from frozen pipes, supply line breaks, and corroded water lines
Roof Leak Repair and Restoration Services in Pecan Grove, TX
As a Texan, you know that we get our share of rain. However, rain isn't the only cause of a roof leak. If your ceiling has been dripping water or forming stains that seem to keep growing and growing, it's time to give the experts at Dry Force a call to receive support.
Our professionals provide superior water extraction services and have the tools necessary to help you prevent moisture damage from a roof leak in your home. We specialize at addressing roof leaks caused by torrential rain, melting snow, storm damage, and clogged gutters.
Drywall Water Damage Mitigation Services
If your drywall has been exposed to water damage, then time is not on your side. Water causes drywall to swell, bulge, seep, and even collapse. Mold may start to grow in as little as 24 hours if not addressed.
Our professionals offer exceptional drywall water mitigation services for homes in Pecan Grove, TX and are available to help you combat mold and rot lurking on your property. Contact our technicians if you notice musty odors, chipped paint, warped walls, buckling ceilings, or mold growth.
We Serve Homeowners and Commercial Properties in Pecan Grove, TX
While we work to restore your property, we recommend that you take some time to explore the sights and activities of Pecan Grove. Enjoy a stroll through the many parks or head to Rosenburg for a taste of history at the Rosenberg Railroad Museum.
For golf enthusiasts, you can practice your swing at the Pecan Grove Country Club. Discover something new in your local area while our team restores your home to its former glory.
Call for a free evaluation
Standing water can cause permanent damage. Act now and let Dry Force prevent the damage from getting worse. Some of the common services we perform are listed below. Select a tile to learn more about the specific service we offer:
Why Homeowners in Pecan Grove, TX Choose Dry Force
Brian Ousley
July 26, 2023.
Ace showed up on time for the consultation and was very professional and friendly. He was very detailed in his inspection. He did not find any water damage. I highly recommend this company.
Elaine Andrepont
July 26, 2023.
Totally satisfied with DRY FORCE water removal systems. Each and every person that called to schedule appointments or visited my home for removing water were professional. Dry Force, workers upon entering my home showed respect while they they took the time to protect the integrity of my home with politeness, care and consideration for my safety. So pleased with their professionalism, I wholeheartedly recommend Dry Force as your number 1, go to source for your home. I'm extremely happy that my brother recommended Bill & Cody for whom highly recommended Dry Force to me. ELaine Therese Andrepont ETA🌹
Deborah Mullen
July 25, 2023.
Nick W. was very quick and has great customer service!
Court Monroe (Courtbel2011)
July 25, 2023.
They were amazing! 100% recommend!
greg corley
July 23, 2023.
Nick w was thorough in his explanations
David Bader
July 22, 2023.
Nick W. Very professional. Explained everything in detail and helped with insurance company. Highly recommended.
Reputable Water Damage Restoration Services in Pecan Grove, TX
The team at Dry Force takes pride in offering state-of-the-art water mitigation and extraction services for homeowners and industrial facility operators in Pecan Grove, TX. With a team of well-equipped technicians, advanced equipment, and commitment to your satisfaction, you can count on us to handle the hard stuff.
Don't let water damage disrupt your life. Give us a call at (877) 589-7504 to receive support or contact us using our online form. Our technicians will be in contact with you within an hour.