Kyle, TX
Call (877) 589-7504 For 24/7 Emergency Water Damage Services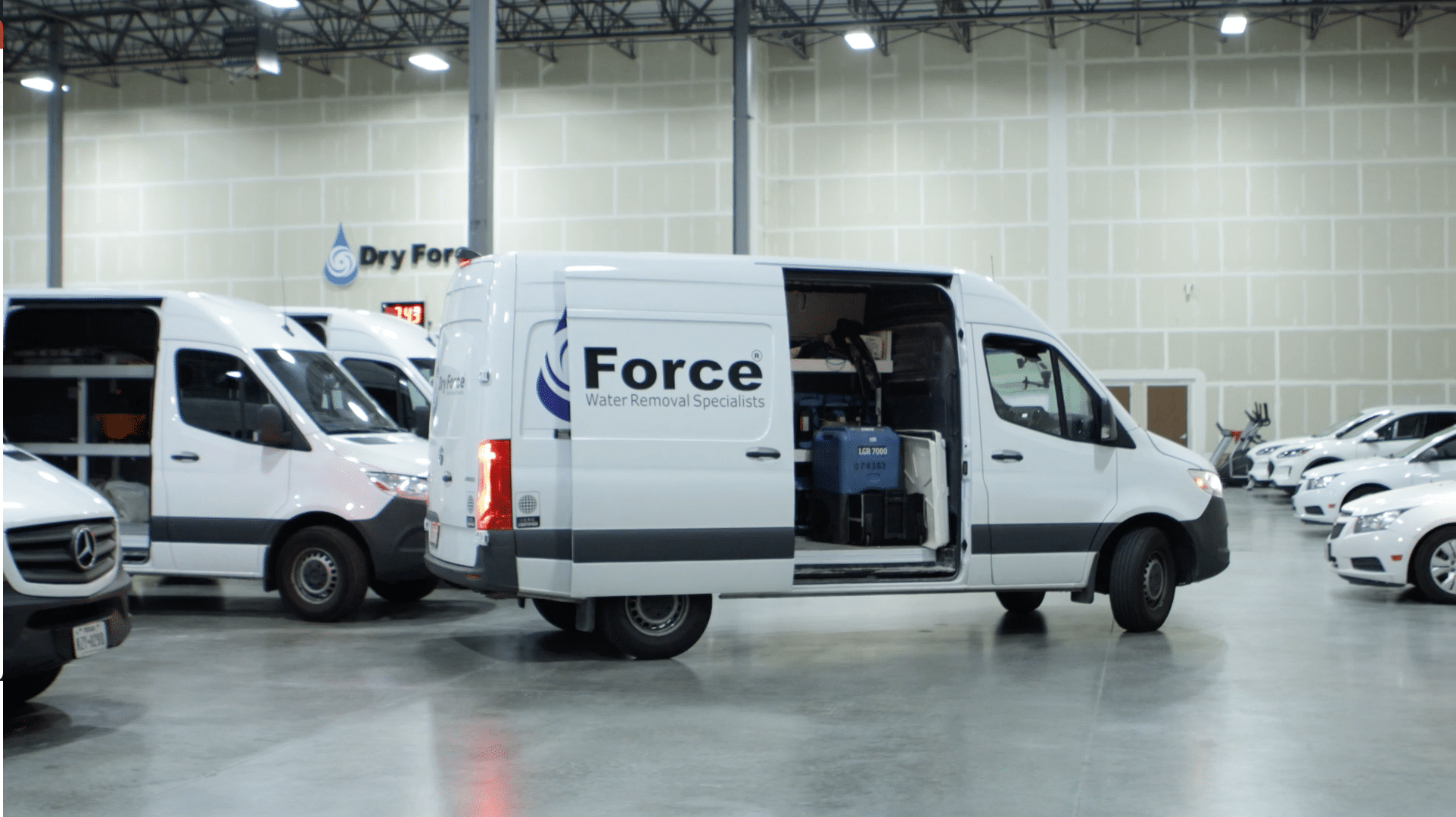 Reputable Water Damage Restoration Services
Standing water is a recipe for disaster, especially when it's in your own home. Whether you have just experienced a flood or burst pipe, water damage from any source can be devastating. Don't let water damage ruin your day. The team at our water and
flood damage restoration company
offer exceptional mitigation services for homes and businesses in Kyle, TX. Give our team of technicians a call at
(877) 589-7504
to receive support with extensive moisture damage on your property.
Water Removal and Restoration Process Steps
If you have just discovered water damage in your home or business, you are probably wondering what our water mitigation timeline looks like. Here is what you can expect from our team of water removal and restoration experts:
When it comes to water damage, time is of the essence. Once you call the team at Dry Force, we will be on your property in 60 minutes or less to assess the damage and start the mitigation process. We can't restore your property until we mitigate it.
Next, our team will conduct a thorough assessment of the affected area. We use state-of-the-art equipment like moisture meters, digital thermal cameras, and hammer probes to detect wet areas, even areas that aren't easily seen. This helps prevent any risk of future mold growth.
Dry Force is known for using the latest equipment on the market. We use quiet drying technology to extract all water and excess moisture from your home. We will also remove any bad odors that may be lingering around after we have dried the area.
Once we have extracted all water and dried the damage, our team will take moisture readings every five minutes. The best thing about remote monitoring is that we do not have to interrupt your day with an in-person visit. Our team provides dependable flood damage restoration services in Kyle, TX and has the equipment necessary to perform remote monitoring for water damage in your home or office.
We take the recordings of our remote monitoring and add them to our documentation of your property. This includes photos of the damage from start to finish. Call
(877) 589-7504
to get your process started.
Water Extraction Services in Kyle, TX
Extracting water is an important part of our water removal and restoration process. It doesn't matter what caused your home or business to flood, all that matters is that you have called our team to perform emergency water extraction services. Dry Force ensures that a technician will be on your property in an hour or less to start the mitigation and restoration process.
Our water extraction services include:
Shutting off the water source
Protection against health problems
Thorough drying of the affected area
Removal of lingering odors
If you are looking for a restoration company to keep on speed dial, the residents of Kyle will recommend Dry Force. Homeowners and business owners can count on the many benefits that come along with a Dry Force service, including:
Burst Pipe Cleanup and Restoration Services
Burst pipes are one of the most common culprits among residential and commercial water damage. Even though coming home to a burst pipe can send you into a panic, it's important to stay calm and call the experts at Dry Force. We provide 24-hour emergency water damage restoration and mitigation services for residents and business owners in Kyle, TX that are experiencing a flood caused by:
Frozen pipes
Deteriorated pipes
Corroded pipes
Supply line breaks
More
Roof Leak Repair and Restoration Services in Kyle, TX
Your ceiling should never drip water. So when you see water stains forming on your ceilings, you can almost guarantee that it's a roof leak. Although a minor roof leak might not seem like a big deal, the smallest leaks can grow into big issues over time. Dry Force handles roof leaks caused by:
Rain water

Storm water damage

Clogged gutters
Melted snow
More
Storm Damage Repair and Mitigation Services
Texas is no stranger to bad weather. Some of the worst storms run through Kyle and its surrounding areas. Whether your home or business is affected by the ruthlessness of the elements, the team at Dry Force is here to help. Our staff offers mild to severe storm damage repair, mitigation, and support. We provide storm damage solutions for a variety of situations, including:
Flood damage
Surging water
Torrential rain
Hurricanes
More
Call for a free evaluation
Standing water can cause permanent damage. Act now and let Dry Force prevent the damage from getting worse. Some of the common services we perform are listed below. Select a tile to learn more about the specific service we offer:
Why Homeowners in Kyle, TX Choose Dry Force
Brian Ousley
July 26, 2023.
Ace showed up on time for the consultation and was very professional and friendly. He was very detailed in his inspection. He did not find any water damage. I highly recommend this company.
Elaine Andrepont
July 26, 2023.
Totally satisfied with DRY FORCE water removal systems. Each and every person that called to schedule appointments or visited my home for removing water were professional. Dry Force, workers upon entering my home showed respect while they they took the time to protect the integrity of my home with politeness, care and consideration for my safety. So pleased with their professionalism, I wholeheartedly recommend Dry Force as your number 1, go to source for your home. I'm extremely happy that my brother recommended Bill & Cody for whom highly recommended Dry Force to me. ELaine Therese Andrepont ETA🌹
Deborah Mullen
July 25, 2023.
Nick W. was very quick and has great customer service!
Court Monroe (Courtbel2011)
July 25, 2023.
They were amazing! 100% recommend!
greg corley
July 23, 2023.
Nick w was thorough in his explanations
David Bader
July 22, 2023.
Nick W. Very professional. Explained everything in detail and helped with insurance company. Highly recommended.
40,000+ Completed Water Damage Restoration Projects
We understand that water damage happens when you least expect it. When your home or business suffers from a flood or water line break, you don't have much time to react. This is why you can count on Dry Force, the restoration company that residents in Kyle trust. With over 40,000 completed water restoration projects under our belts, we will mitigate and restore any type of water damage, no matter how small.
Enjoy Kyle, TX, While We Work
Water damage can be disastrous, but it doesn't have to wreck your mood. Enjoy all of what the local Kyle area has to offer while we work to fix your water damage.
Treat yourself to a slice of pie at the famous Texas Pie Company or hit the town wearing your dancing shoes. Learn how to line dance at Tejas Hall or take a trip to Texas' beautiful wine country. Whatever you do, you can feel good knowing that you will come home to a fully-restored house