What Is Water Damage Mitigation? Benefits & Process
An overflowing bathtub, a washing machine malfunction, or a burst pipe can lead to standing water in your home. Left unattended, this standing water can cause big problems and lead to permanent damage. When water seeps into your home, you need to call a professional water damage mitigation company. Water mitigation involves minimizing the impact of water damage. Learn everything about the mitigation process and the benefits of calling in professionals.
Water Damage Mitigation Process
The First Steps
When water damage mitigation specialists arrive at your property, they will begin with an assessment. Since no project is the same, rest assured you'll receive an individualized mitigation plan.
This plan can include the following:
Sealing off affected areas to contain the damage.
Taking out any items or materials at risk.
Any impacted areas will be contained, affected belongings will be removed, and unsalvageable building materials will be removed.
Water Is Removed
Water mitigation specialists work quickly to remove the water remaining in your home. This is done using industrial-grade water extraction tools and equipment. Hoses, tanker trucks, and portable sump pumps could all be used. Once the standing water is extracted, advanced dehumidification equipment removes any lingering moisture from the air.
Tips & Insights: Why Is My Refrigerator Leaking Water On the Floor?
Belongings Are Recovered
Water can damage personal belongings and leave foul odors in its wake. The mitigation specialists will work to save items that can be salvaged and cleaned, and remove any materials or items that cannot be saved.
Odors Are Eliminated
Foul smells can linger even after the water is removed. As part of the water damage mitigation process, a specialist will use disinfecting and deodorizing methods such as thermal foggers and ozone machines to clean the air and remove those foul smells.
Top Misconceptions About Water Mitigation
When it comes to water damage mitigation, there are a few misconceptions floating around about the process and the role of mitigation specialists.
Air Drying Is Cost-Effective
Opening windows or doors to let mother nature dry the property naturally will not effectively dry everything. Ultimately, you will need a professional company that can find moisture in hidden spaces and underneath materials. Air drying alone cannot get the job done. And if you let the water linger, it can turn to mold, ultimately costing you in restoration expenses.
Tips & Insights: Ways to Dry Out a Flooded Crawl Space
Replacement Is Cheaper
Replacing items and materials is not always cheaper than having an expert water damage mitigation company restore them. A mitigation company can salvage items and materials and result in less you have to replace.
DIY Is Doable
Ultimately, you want to leave water damage mitigation to the professionals. Specialists have the tools, equipment, and knowledge to mitigate water at the source and can prevent future mold growth. If you opt to dry your property yourself, it could cost you more down the road in future repairs.
Water Damage Mitigation Services
When you experience a water emergency, you need to contact our team of water damage mitigation experts. Our licensed technicians offer reliable water damage restoration services in Austin, TX and other areas. The benefits of contacting our professional mitigation specialists are numerous.
Advantages Of Contacting Our Professional Restoration Team:
Fast response times
Industrial-grade water extraction tools
Advanced technology and documentation techniques
Highly experienced, IICRC-certified professionals
Assistance with your insurance claim
Dry Force has 18 years of experience and over 40,000 water restoration projects under our belts. We are available 24/7 every day of the year and have 60-minute or fewer response times, so you can rest assured that help is always close by. In addition to offering innovative water damage restoration solutions, our technicians provide other types of solutions to eliminate damage in your home. Our team offers various types of restoration services including flood damage restoration, roof leak maintenance, burst pipe cleanup, and storm damage repair. Give our team of technicians a call at (877) 589-7504 to receive assistance with water damage in your home or commercial property.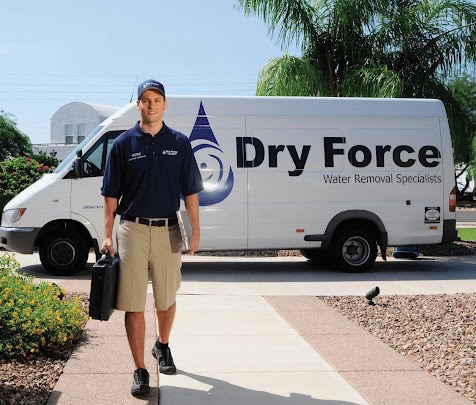 We Turn Chaos Into Calm™
Give Us a Call: