Top 8 Sources of Commercial Water Damage and Ways to Respond
Roof leaks, HVAC system issues, and sewage backups are just some of the sources of commercial water damage that business owners and property managers need to look out for. Water damage from any source can devastate your property and hurt productivity. Valuable equipment and high-traffic areas could be significantly impacted, leading to extensive repairs.
Don't let water damage disrupt your operations. We have created an outline of the main sources of water damage commercial property owners face and ways to respond to issues
Common Causes Water Damage On Commercial Properties and Ways to Respond
1. Damaged Roofs
When was the last time you had a roof inspection? As a leading cause of commercial water damage, roof leaks need to be addressed right away. Over time, a roof leak can lead to ceiling damage or mold infestation. A roof inspection is a great first step to ensuring a roof leak doesn't slow you down. You must also repair damaged areas, including the drainage system, and keep snow and ice from building up.
2. Malfunctioning Toilets
Another top cause of water damage restoration issues in commercial buildings is toilet leaks. To help avoid a major loss, you should routinely check all toilet hoses and replace all of them every three to five years. Even if the hoses appear functional, the older they get, the more likely they are to cause an issue.
3. Defective Sprinklers
The sprinkler system is a valuable component of the fire protection protocols in your building. Unfortunately, the sprinklers on your property can occasionally malfunction and cause severe commercial water damage. Your sprinkler system should be regularly inspected and tested to maintain reliable function and prevent issues. You should also ensure that pipes and antifreeze/low-temperature alert systems are up to code.
Tips and Insights: Top Causes of Water Stains On Ceilings and Ways to Fix
4. Old Water Heaters
A water heater can provide reliable service for up to ten years. After that, the risk of breaking down grows higher and higher. Is your water heater getting up there in age? It's better to replace it now than to risk it failing and causing water damage throughout your commercial property. For small leaks, place a drip pan underneath and install an automatic shut-off valve near the heater.
5. Defective HVAC Systems
Normally your HVAC system is helping keep you and your clients comfortable. However, drain clogs, frozen evaporators, and other issues can cause water damage that may go unnoticed for some time. Contact a local HVAC company for regular maintenance and a professional water damage restoration specialist to help prevent the moisture damage from worsening.
6. Vacancy
Water leaks in an abandoned building have a high risk of not being discovered early. Even small leaks can lead to extensive damage. You can help prevent this from happening to your vacant building by shutting off the water supply anywhere it is not needed. You should also install temperature sensors to properly maintain indoor temperatures to protect pipes or equipment.
7. Machinery
Does your building use multiple boilers or similar machinery? You need to have them routinely inspected by a qualified contractor to prevent leaks. Issues with any or all of the boilers on your property can lead to flooding and commercial water damage in the surrounding area. Installing water barriers and ensuring proper drainage can help you avoid water damage.
Tips and Insights: Ways to Fix Water Damage On Your Popcorn Ceilings
8. Sewage Backups
Sewage backups are often the result of heavy rain. If the sewer is backed up, you could be looking at a messy and foul-smelling emergency. Ensuring your sewer lines and drainage system is clear of clogs can help you avoid sewer backups. It's also a smart move to install an emergency shut-off system and drain check valves. Both of these devices can help stop sewage from backflowing into your business.
Commercial Water Damage Restoration Services From Dry Force
Our team understands how detrimental downtime is for your business. This is why we utilize proven commercial water damage restoration and reconstruction services for commercial properties. Our team will be on-site within 60 minutes of your call. We offer trusted water and flood damage restoration services in Houston, TX and other areas. Our technicians will identify all affected areas on your commercial property and use advanced equipment to remove water.
When a water catastrophe strikes your business, you can trust Dry Force to be there at any time, on any day. Our certified technicians provide water damage restoration services for businesses in areas of Texas like Houston, Austin, Dallas, Fort Worth, and San Antonio. Call us at (877) 589-7504 or contact us online for a free evaluation.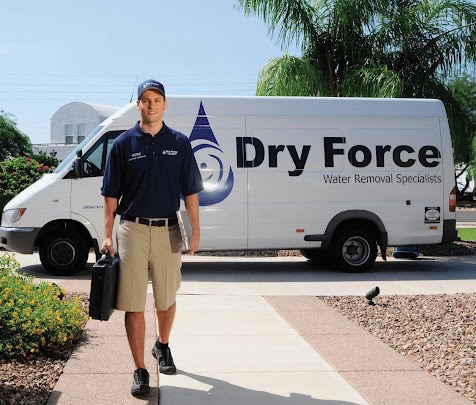 We Turn Chaos Into Calm™
Give Us a Call: