Help, My House is Flooding!
Each year, property owners all over the country spend thousands of dollars in damages as a result of flooding in their homes. From excess rain to the overflow of unattended bathtubs, flooding can happen fast, and damages can occur even faster. While no one wants to think about bad things happening to their homes, flooding is often an unforeseen and, at times, an unpreventable situation.
Here's what to do if your house starts flooding:
1. Identify the Type of Water
When it comes to finding the source of your flood, you'll also need to also determine the type of water on your property. Knowing this plays a huge role in how certified water damage companies like Dry Force will address your problem.
Clean Water
This is considered the most common cause of household water damage. Clean water is nonthreatening and typically consists of rainwater, melted snow or ice, broken pipes. Drywall, flooring, and carpet that has been affected by clean water can be properly dried out and saved. If your home is flooded with clean water, locate the source and prevent the water from spreading to other areas of your residence.
Contaminated Water
This category of water damage consists of polluted water which may cause harm to individuals if ingested. Contaminated water damages can happen when appliances (dishwasher, washing machine, toilet) overflow or when sump pumps leak or break. Polluted water damage should be managed by a professional cleaning and restoration company. If your home is flooded with contaminated water, call a water damage restoration company to assist you.
Black Water
As the name suggests, black water is dark in color and contains organisms and bacteria that can cause significant harm and make you sick. Black water damage comes from sewers and rivers. When it comes to clearing grossly contaminated areas of your home, trust an experienced restoration service to dispose of all soiled materials and replace them with accuracy.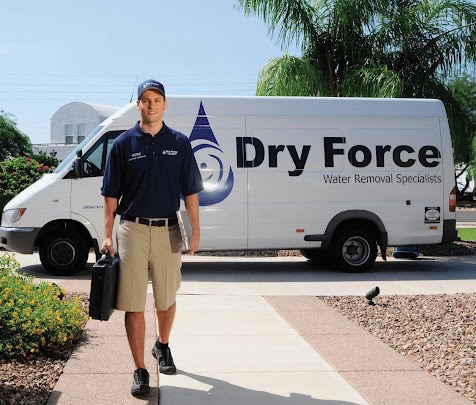 We Turn Chaos Into Calm™
Give Us a Call:
2. Turn Off Electricity & Evacuate
When a flood disaster occurs, the last thing you need is accidental electrocution. If you can, immediately locate your breaker box and turn off all sources of energy for your home. To ensure the safety of your family, it's important to immediately turn off all electricity and avoid playing in the water. Once you do this, gather your family, essentials, and pets—then evacuate to a safe, dry location. If you experience excessive flooding in your home from a natural disaster find the closest shelter or safe haven.
After you evacuate and are in a safe environment, call your insurance company and inform them of your situation. If you don't have your documentation, it's okay. The representative you speak with will be able to identify the details of your home insurance coverage. Depending on how excessive the damage is, you may need to wait for an adjuster to professionally evaluate your property before house flooding cleanup can begin.
3. Call Professionals to Restore Your Property
Once you get the go-ahead from your insurance company, you can start your house flooding cleanup. To ensure this is completed as accurately and efficiently as possible, it's best to contact the professionals at Dry Force. Our team provides dependable water damage restoration services in West Spring, TX and other areas. In addition to being water removal specialists, we conveniently offer services 24/7. Accidents happen and disasters strike without warning. Dry Force has a team of water damage specialists who can efficiently begin the water cleanup process as soon as possible.