Ways To Respond To Water-Damaged Carpet in Your Home
There is nothing worse than coming home to a flooded living space. We all know accidents happen in the blink of an eye, but no one ever thinks it will happen to them. So when water hits, don't panic. With the help of a professional, damage to your furniture and floors can be restored. If your carpet is wet due to a burst pipe, malfunctioning appliance, or a roof leak, you will need to take action to prevent issues such as water damage, odors, and mold growth. We have created an outline of the best ways to respond to water-damaged carpet in your house.
How Does Carpet Get Water Damage?
To answer that question, you need to know the different categories of water.
Clean Water Damage
Clean water originates from rain water flooding, overflowing home appliances, broken water lines, or an accidental spill.
Greywater Damage
Greywater contains moderate contaminants. This water damage typically comes from a dishwasher discharge pipe or a toilet overflow.
Blackwater Damage
Blackwater has high amounts of contamination. Black water is primarily a result of sewer backups. The category your water damage fits into will help determine how your carpet got contaminated.
Tips & Insights: Ways to Repair Subfloors With Water Damage In Your Home
How Do You Clean Carpet With Water Damage?
We can't speak for every water removal company, but this is our five-step water removal process.
Step One: Inspection
A water restoration specialist will arrive at your location within 60 minutes of your call and complete a thorough assessment of the damage free of charge. They will inspect your property, locate the source of the water, identify the type of water contamination, and provide you with a detailed plan of action.
Step Two: Water Removal
Before the water damage restoration process can begin, a specialist will extract water in your carpet and home. Next, using industry-leading technology, a professional will identify visible and non-visible water.
Step Three: Dry & Dehumidify
An IICRC-certified water restoration specialist will use virtual mapping with Company Cam and Mitigation Industry Control Application (MICA) to identify and document any lingering water molecules in the affected area. These tools, along with dehumidifiers and HEPA air scrubbers, will ensure your property is safe from parasites, mildew, or other harmful airborne contaminants.
Step Four: Cleanse & Sanitize
Just because a surface looks clean doesn't mean that it is. A professional utilizes commercial-grade cleansers that disinfect and deodorize beyond the surface.
Step Five: Restore & Repair
A water restoration specialist will ensure your home is returned to its pre-loss condition.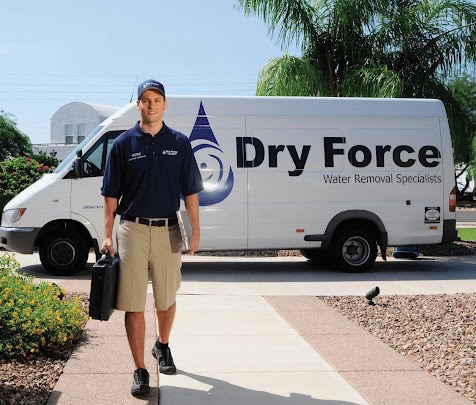 We Turn Chaos Into Calm™
Give Us a Call:
Will Carpet Get Mold If It Gets Wet?
Not if you begin the cleaning process right away. The carpet's padding, however, is more likely to develop mold, mildew, or other contaminants.
How Do I Dry My Carpet to Prevent Water Damage?
Avoid creating dark, humid, and warm environments. In these environments, mold has the potential to grow. To prevent water damage to your carpeting, a professional may use a variety of items such as a dehumidifier, fans, shop vacuums, and towels to remove moisture in your carpet and padding. A technician may combine a fan and dehumidifier to speed up the drying process. The fan will promote airflow and a dehumidifier will absorb airborne moisture.
Should Carpet Be Replaced After Water Damage?
Ultimately, the answer to this question depends on the following factors:
How Much Water Got On the Carpet
A spill won't require replacement. You can easily dry the area with towels and fans. If the carpet, padding, floor, and subflooring are saturated, replacement is your best solution.
How Long the Water Was On the Carpet
As we mentioned earlier, mold starts to grow within 24 hours. If your carpet has been wet for several days, you will likely need to replace your carpet.
Tips & Insights: Can Water Cause Damage to Your Vinyl Flooring?
Water Damage Category
If clean water causes the damage, it contains little to no contaminants and can be cleaned and will not need to be replaced. On the other hand, if black water such as sewage was absorbed by the carpet and padding, you should call in a professional to replace the water-damaged carpet.
Common Causes of Water Damage to Carpet
Heavy Rain
Moisture from natural disasters will infiltrate through windows, roofs, and doors. Periodically inspect these areas to identify the cause of leaking water, then apply waterproof paint and sealants to deter moisture.
Home Appliances
Any home appliance that uses water can also contribute to carpet water damage. Dishwashers, washing machines, and even air conditioners can soak carpet floorings to varying degrees.
Drainage and Plumbing Pipes
Blocked drainage systems can impact water flow and ultimately cause an overflow. This can cause harmful water damage to your carpet and create a smelly, bacteria-filled mess.
Water Damage Restoration Services From Dry Force
Water damage can become a nightmare for homeowners and businesses. Be it from a severe storm or a burst water line, water can be disastrous for your carpet and home. To help you prevent structural damage and mold growth in your home, our team of technicians offer dependable water and flood damage restoration services in Houston, TX and other areas. Our team has the experience, equipment, and support to handle everything from initial cleanup to final reconstruction.
We offer various types of restoration solutions such as roof leak maintenance, storm damage repair, burst pipe restoration, and slab leak detection. To receive assistance with water-damaged carpeting in your living space, give our team of technicians a call by phone at (877) 589-7504 to schedule an appointment. We Turn Chaos Into Calm™