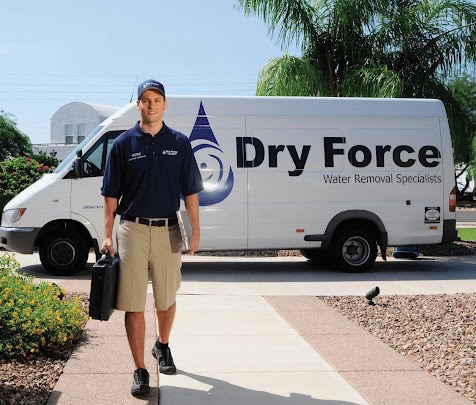 The Leaders in Water Damage Restoration
When water damage leaves you in the lurch, you need restorations and repairs that are not only fast and efficient but mitigate future damage. Our team of technicians provide exceptional storm and water damage restoration services for homes and businesses in San Marcos, TX.
When you trust Dry Force, you can expect 60-minute or fewer response times, advanced water extraction tools and equipment, and IICRC-certified technicians to tackle the job. With over 40,000 water restoration projects and counting under our belts, you can rely on the expertise of the restoration professionals at Dry Force. If you need assistance with mild to severe water damage, give our team a call at (877) 589-7504 to book an appointment.
Call for a free evaluation
Standing water can cause permanent damage. Act now and let Dry Force prevent the damage from getting worse. Some of the common services we perform are listed below. Select a tile to learn more about the specific service we offer:
Why San Marcos Homeowners Choose Dry Force
Robert Smith
March 20, 2022.
They were friendly, timely, and professional. Would recommend them!
Huong Mai
March 17, 2022.
Dry Force was referred to me by Wave Plumping. I had a slab leak in my house that required me to make an urgent decision on which route to repair my water leak. My decision was based on how much restorative work will need to be done to my house after the plumbing repair. Dry Force was able to come out within 1.5 hours from when I made a phone call for a same day consult. They were very professional and knowledgeable. Dry Force was able to work with my schedule to make it convenient for my time and also my renter's. They kept me in the loop with everything. They communicate very well and is very attentive to my concerns/needs and as well as my renter's. I highly recommend Dry Force for your restorative needs. I am starting the process of replacing things around the house that were damaged for the water leak.
Dry Force Water Removal Specialists is very high-end professional company. They were at my place with in half hour. Excellent job ethic. Mostly run by young Urbans. We'll mannered, serious about the best results of their job. I thank the management for seeking out. the best employees! Gage Josh
Julie Williams
March 2, 2022.
Every technician that came to our house was WONDERFUL! Shout out to Michael, Dylan (Mr. patches on his jacket), Gage and Kaylee. So friendly and knowledgeable. Will definitely remember to use Dry Force or recommend them to my friends and family!
Shanna Ellis
February 28, 2022.
Very thorough, very professional. Dylan did a great job and explained the process and answered all of my numerous questions. Cleaned up after deconstructing my wet flooring and took extra precautions to highlight and minimize trip hazards when I told him I had a young baby boy just learning to walk in the house. The gentleman who picked up my equipment was also very helpful and professional and took care to not wake up my sleeping baby which I greatly appreciated, unfortunately I didn't catch his name. The company called and gave me updates on the progress of drying time. Overall a great company to work with during a stressful time.
Restoration Services for Flood Damage
Water can flood your property quickly, leaving damage in its wake and upending your daily life. Floods can be caused by a variety of sources, not just severe weather. Additional causes of floods for homes and commercial properties in Texas include foundational damage, malfunctioning appliances, poor drainage, leaking pipes, and clogged rain gutters.
If your property in San Marcos is impacted by flood damage, you need to call a water damage restoration company you can trust to quickly mitigate and restore your property to its pre-loss condition. The team of technicians at Dry Force will assess the damage, extract moisture, and implement a plan to prevent future mold growth.
Burst Pipe Cleanup Services
Freezing conditions, corroded pipes, high water pressure, underground movement, and a naturally aging plumbing system can all lead to a burst pipe. Left unattended, a burst pipe can spew up to 200 gallons of water a day flooding your property. A burst pipe can leave you with water damage and potentially costly repairs. Our contractors provide innovative flood and water damage restoration services for homeowners and businesses in San Marcos, TX. We utilize advanced water extraction equipment to remove excess moisture in your living space.
Our team of IICRC-certified technicians can arrive at your property within one hour or less to inspect the water damage and remove any irreparable materials in your home. In addition, our staff can provide mold mitigation strategies and help you contact your insurance company.  The team at Dry Force ensures no moisture remains on your property, which helps maintain structural integrity and prevent mold growth.
Mold Remediation & Removal Services
Mold lives in the humid and warm conditions here in San Marcos. Even the smallest amounts of water damage can contribute to its development and growth. After you have discovered mold growth the best course of action is to call on the mold remediation experts at Dry Force. 
Our team of remediation specialists will assess your property and determine the best mitigation plan. While all projects are different, you can expect us to follow this process:
Seal off impacted areas. This avoids cross-contamination and allows us to cleanse the air using HEPA air purifiers.
Clean or remove materials. We salvage anything that can be saved and sanitize it.
Deep clean the area. We use a combination of HEPA vacuums, antimicrobials, and disinfectants as part of our advanced sanitation process.
Extract the moisture using high-grade tools and dehumidifiers.
Storm Damage Repair Services
Texas storms have minds of their own. If storms have damaged your property, you need storm damage repair solutions to get you back to your normal life quickly. Our technicians provide fast and convenient water damage restoration services for families and commercial properties in San Marcos, TX. Once your team arrives at your property, we will perform an assessment for structural damage. Book an appointment with our team to receive support with water damage.
As Texans, we know how destructive storms can be. We pride ourselves at Dry Force on providing storm damage repair when you need it most. We provide fast restoration, mold prevention, and cleansing of the affected area.
Our Restoration Process:
Assessments for structural and water damage
Tree removal
Emergency board-ups
24/7 emergency service, 365 days a year
Response times in an hour or less
Direct billing to your insurance company
Leaking Roof Repair Services
Your roof protects you from outside elements. A leak in the roof can have a ripple effect on your property, including mold growth and damaged walls. If your roof is leaking, you need repair services quickly to mitigate the damage. At Dry Force, we provide fast restoration using state-of-the-art dehumidifiers and water extraction equipment to dry your property and prevent future mold growth. 
The source of the roof leak could be:
Expertly Restore Your Property in San Marcos
Living in the Texas Hill Country means exploring the wonders of nature, from caves to scenic trails and the beautiful San Marcos River. Go explore the beautiful local area while our team combats the severe water damage in your living space or business. When water damage affects your life, Dry Force returns your home or commercial property to its pre-loss condition.
We use high-tech mitigation equipment and our years of experience with storm or water damage restoration solutions to get results. If your life has been upended by water damage, contact the experts at Dry Force to restore your property and your peace of mind.